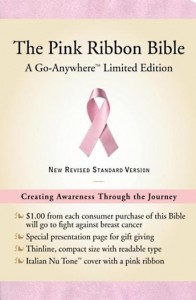 One Dollar From Each Consumer Purchase Will Go Towards The Pink Ribbon Girls, a Nonprofit Organization Dedicated to Breast Cancer Awareness, Education, Early Detection, and Support.  May 2009, San Francisco: HarperOne, publisher of the NRSV, announces the publication of The Pink Ribbon Bible (HarperOne; September 2009; $24.99; ISBN 9780061917448) in time for National Breast Cancer Awareness Month in October.
Beautifully packaged and portable, this limited edition Bible was developed for the 11,000 young women who will be diagnosed with breast cancer in the next year, and the more than 250,000 women under the age of 40 already living with this disease.

"This compact edition of the Bible will become a must-have for anyone who seeks comfort or inspiration in its pages," says Mark Tauber, Senior Vice President and Publisher of HarperOne. "It's easy to give, easy to carry, easy to own, and more important, it makes it easy to contribute to the fight against breast cancer."
Tracie Metzger, a young mother of four and co-founder of Pink Ribbon Girls, will be available to discuss The Pink Ribbon Bible. Diagnosed with breast cancer at the age of thirty, Tracie credits the Bible with sustaining her faith as she fought and ultimately overcame the disease. She says, "My hope is that God's words in this Bible will renew your strength and provide you with encouragement to endure whatever battle you're facing."
With a personal message from Tracie Metzger on the book jacket, The Pink Ribbon Bible offers solace to those young women who often feel isolated and alone after their diagnosis.
The Pink Ribbon Girls was founded in 2001 by Tracie Metzger and Dawn Harvey. A nationwide nonprofit organization, it offers education and awareness for early detection, support, and an emotional outlet for the more than 250,000 women under the age of 40 living with breast cancer in America.
HarperOne, a division of HarperCollinsPublishers, strives to be the preeminent publisher of the most important books and authors across the full spectrum of religion, spirituality, and personal growth literature, adding to the wealth of the world's wisdom by stirring the waters of reflection on the primary questions of life, while respecting all traditions.