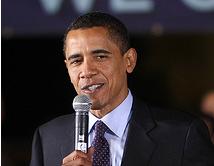 by Lindsay Perna
Religion News Service
WASHINGTON — President Obama committed to comprehensive immigration reform Friday (June 19) at the National Hispanic Prayer Breakfast in a speech that was laden with religious language but short on policy specifics. "We know there is much more work to be done to extend the promise of a better life to all our children and grandchildren," Obama said. "In all that we do, we must be guided by that simple command that binds all great religions together: Love thy neighbor as thyself."  Many of the Latino religious leaders at the breakfast, as well as several prominent members of Obama's faith advisory council, have been lobbying in recent weeks for substantial immigration reform.

Obama said Friday that he backs reform, including a path to citizenship for the country's estimated 11 million illegal immigrants. But the president also pushed for stronger border security and said undocumented residents must learn English, pay penalties, and "go to the back of the line behind those who played by the rules."
The president said the U.S. should be a "nation of laws and a nation of immigrants. Those things aren't contradictory; they're complementary. That's why I'm committed to passing comprehensive immigration reform."
Obama's remarks came a day after the U.S. Conference of Catholic Bishops issued a letter urging the president to address the "moral matter" of illegal immigration, and two days after Obama postponed a session with lawmakers to plot legislative strategy.
Latino leaders have cheered Obama's nomination of Sonia Sotomayor to the Supreme Court. On Friday, Obama called her rise from public housing projects to cusp of the high court "the heart of the American story."
"And I am confident that it's a story that will someday be told by the first Hispanic President of the United States of America," Obama added.
But while those remarks drew applause, some religious leaders say they are growing impatient with the holes in the current immigration system and Washington's foot-dragging efforts to fix them. Obama has twice postponed meetings to plot immigration reform; the next is scheduled for June 25.
"Thousands of foot soldiers are ready to advocate in Congress, to say, `President Obama you are not alone. We will help you get this,"' said the Rev. Gabriel Salguero of The Lamb's Church in New York. However, "we need a timeline," he added.
Catholics, Methodists, Lutherans and Baptists alike are aligning to fix a broken immigration system that is "not an issue of law, but an issue of God's love," said the Rev. Luis Cortes Jr., president of Esperanza, a network of Hispanic evangelicals.
"Amnesty is what Jesus Christ gave us. So we should understand it is free of charge," Cortes said.
Frank Sharry, former director of the National Immigration Forum, said the faith community is at the forefront of the movement. However, the administration "would have hell to pay" if they continue to delay reform efforts.
"They are going to have ministers chained to the White House fence if they don't do a meeting this time," he said.