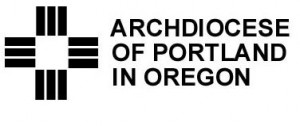 Portland Archdiocese — The annual Peter's Pence Collection will be taken in the parishes of the Archdiocese on Sunday, June 28. The theme for this year's collection is "Cast the Light of Christ upon the World." The theme recalls the Holy Father's statement at New York's St. Patrick's Cathedral in April 2008, "In the finest traditions of the Church in this country, may you also be the first friend of the poor, the homeless, the stranger, the sick and all who suffer. Act as beacons of hope, casting the light of Christ upon the world."

Archbishop John G. Vlazny, Chairman of the USCCB Committee on National Collections, wrote that "The Peter's Pence Collection enables the Holy Father to provide emergency assistance to the most disadvantaged – those who suffer because of war, oppression, disease, and natural disaster." The United States provided about one-third of the worldwide proceeds from the Peter's Pence Collection in 2007. The collection assists the Holy Father with his works of charity.
Last year Catholics in western Oregon contributed more than $110,900 in support of Peter's Pence. Parishioners are again asked to be as generous as possible in their support for the Holy Father and the Peter's Pence Collection.
###