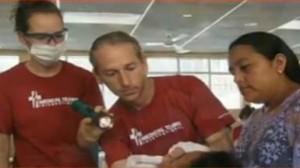 Medical Teams International (Tigard, Ore. — June 3, 2009) – Medical Teams International airlifted enough emergency medicines and medical supplies today to care for 10,000 Pakistani people during the next three months.The medicines will help people survive in northern Pakistan who have lost their homes in recent civil and military fighting.  The supplies are valued at $421,045 and will be distributed to Hope International, a Medical Teams International partner.

Medical Teams initiated an airlift from Holland in order to reach people immediately. Families struggling to survive need care now and cannot wait.
Earlier today, the agency began loading supplies into a 40-foot container that will supply $735,000 in over-the-counter medicines to Moldovan families. (See attached pictures.)
Moldova is the poorest country in Eastern Europe.  "These medicines will go a long way to help tens of thousands of people who cannot afford basic medicines and medical supplies. For the first time, health professionals will have the opportunity to provide medicines to their sick patients," says David Beltz, director of commodity support at Medical Teams International.
Since 1979, Medical Teams International has shipped more than 1.2 billion in antibiotics, surgical kits and lifesaving medicines to care for 35 million people in 100 countries around the world. More than 2000 volunteers meet the needs of people worldwide each year.