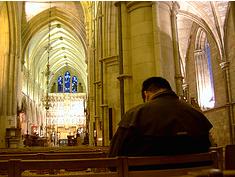 By Adelle M. Banks
Religion News Service
Decades of painful conservative-moderate fights. Stagnant baptism rates. Membership malaise. Surveying the state of the Southern Baptist Convention, seminary president Danny Akin can sum it all up in just six words.  "Business as usual," he said, "is not working."
Seeking to turn things around for the nation's largest Protestant body, Akin has teamed up with SBC President Johnny Hunt to draft a "Great Commission Resurgence" declaration that will be presented to the Baptists' annual meeting on June 23-24 in Louisville, Ky.

The goal is to find a new way forward after several high-profile campaigns to boost the number of baptisms — a key measure of vitality and an article of faith for Baptists — fell flat.
Hunt told one Baptist newspaper that the SBC is like a ship that is "adrift" and needs to consider ridding itself of unnecessary "cargo."
For the Rev. Micah Fries, a 30-year-old pastor of a Southern Baptist church in St. Joseph, Mo., such analogies are appropriate for a denomination that has grown in size and bureaucracy in its more than 150 years of history.
"We need to lose some excessive baggage," he said, noting a worrisome $30 million shortfall in an international missions offering that will reduce the number of missionaries deployed oversees.
For years, political battles — both inside and outside the convention — put key Southern Baptist leaders in the spotlight. But now, as some of those faces fade from view, a younger generation is taking a different focus.
"I think in many ways, the Southern Baptist Convention mirrors the Republican Party in that they have cultivated such a narrow base," said the Rev. Bill Leonard, dean of the Wake Forest University School of Divinity in Winston-Salem, N.C.
"They have to keep defining themselves to say to a new generation, `Here's what we delivered you from' because this new generation doesn't remember."
Those fights included whether to boycott the Walt Disney Co., forbidding women pastors, telling wives to "submit graciously" to their husbands and screening out would-be missionaries who pray in tongues, as well as public-square battles over abortion and homosexuality.
Akin, the 52-year-old president of Southeastern Baptist Theological Seminary in Wake Forest, N.C., says the annual fights over hot-button theological or social issues aren't moving the next generation of Baptists.
"This is kind of the network of younger, enthusiastic Southern Baptists who, to be honest with you, … find the annual meeting itself a little frustrating and a little boring," said Akin.
Akin hopes the declaration will help chart a new direction by combining theology — with a focus on sharing the gospel and belief in an error-proof Bible — with a top-to-bottom streamlining that puts special emphasis on racial reconciliation.
The Baptist blogosphere is already abuzz with debate over where the document could take the denomination, or if it could even work.
"It exposes two divides," said the Rev. Wade Burleson, pastor of Emmanuel Baptist Church in Enid, Okla., who has used his blog to question Southern Baptist policies in recent years. "It's an ideological, not generational, divide and it is a status-quo-versus-change divide."
Richard Land, president of the denomination's Ethics & Religious Liberty Commission, said the statement reflects particular concern with baptism rates — now at their lowest since 1987 — and a total membership that dropped 0.2 percent in a church that for years prided itself on its annual increases.
"I think it's a sense of some frustration that we have not seen more growth in missions and evangelism, and (it's) an attempt to re-emphasize that," he said.
Not everyone is embracing Hunt and Akin's plans. Most prominently, former SBC President Morris Chapman (who currently leads the denomination's Executive Committee) has been outspoken in his opposition.
"Reallocating our funds will not solve any perceived problems," Chapman wrote in a column in Baptist Press, the denomination's news service. "But a genuine revival might!"
Some Baptist state conventions have questioned what the proposed restructuring could mean on the local level, while others acknowledge the need for change.
"It is with sadness I declare that many in our churches are spiritually sick and in great need of a fresh movement of God both within the leadership and the laity," said Milton A. Hollifield Jr., the executive director-treasurer of the Baptist State Convention of North Carolina at a May board meeting. "May God help us look to him and to be different."