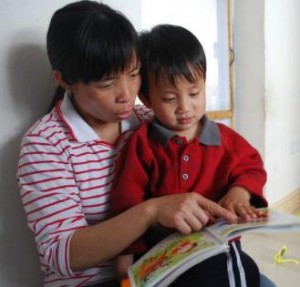 By Holt International,
Eugene Oregon
Loss of funding has put many children currently in foster homes at risk of returning to orphanages. Holt is committed to taking over the funding of these foster care programs in order to keep the children with their foster families until permanent families can be found. But we need donations to provide the food, supplies and program support to make this happen.  Jian Chen, Program Director for China is currently in China, and she sent this message about how loving care and support of stable foster families is so important in the lives of vulnerable children.
By Jian Chen
I can't imagine what kind of trauma it would bring to a young child or a baby in China if they lost their foster family. Would they still trust us, or another human being if we let this happen?  For many of the children in China, especially children with special needs, their foster parents are the only stable, caring family they have known. It would break their hearts to be removed and taken to orphanages. I have heard of some children who have been moved from foster parents to orphanages and they cried and cried.

Recently I met a boy in a loving foster home named Hong Hong, who was yanked back to the orphanage for a brief time. When I visited the foster family with the orphanage director, Hong Hong saw us and started to scream at the top his lungs and looked panicked. Quickly he hid his face into his foster mother's chest, kicking his feet into the air while the foster mother tried to hold him. The orphanage director explained to me: "He must think we're here to take him back to orphanage." The foster family is the only family that he has ever known.
A few weeks ago, I also visited Holt's Meihekou project, where I was informed that Xiao Li, a young woman I have known for many years, took the college entrance examination and got very high score.  She lived with her foster mother who she called "Nai Nai". I remembered the last time I visited there was 4 years ago, and her Nai Nai was 80 some years old. Nai Nai held my hand in tears, and told me she was getting older and her health condition was deteriorated. She was ready to give up everything in this world but still couldn't let go of Xiao Li.
Xiao Li was still a freshmen in the high school at that time. Nai Nai said Xiao Li still needed help…She asked: "If anything happens to me, will Holt continue to support her?" When I said: "Of course we will", she was very relieved. Nai Nai passed away two years ago, and Xiao Li continue to work very hard in school and got a very good score in the recent entrance examination. When we congratulated her, she started sobbing, she said: " If it weren't for my Nai Nai, I would have never been able to pass the examination and go to college. I think about her every day. She inspired me to work hard… I really miss her and want her know I did it."
Foster homes are the only home to some of the children in China. If a child lives and grows in an institution, it is just like a tiger living in the zoo cage. It looks like a tiger and eats like a tiger but can't function like a tiger because it can't go back to live in the wild. But if a child lives with a foster family with love and care, she or he can attach to a permanent family and adjust to family life much better. The transition may be hard at first because of the love and security they have with foster family, but as they realize that they're now with their permanent family, they will form a new bond based upon the trust they had with their foster family.
Without foster care, some children will have to grow up in the institution and, most likely, have to overcome some deficits in their experience.
I hope people will help us keep children in foster care. You give a life to a child-a life not just to survive but a real, active life. I feel really sad for these children. I may never be able to fully describe how a child felt if they lost their foster family and had to be sent back to orphanage.
Help Children Stay with Their Loving Foster Families…