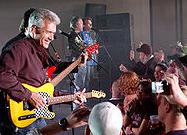 Multi-Platinum Selling Group 'Diamond Rio' Mark Christian Music Debut with 'The Reason'
NASHVILLE, July 13 /Christian Newswire/ — After two decades of making music, acclaimed six time vocal group of the year and GRAMMY® nominated Diamond Rio are unveiling their 11th album and first full length Christian record The Reason on Word Records on Sept. 22.  Over the years, each member of Diamond Rio has heard God's calling through a myriad of experiences and it's those joys and challenges that are reflected in the songs on this new album. For example, member Dana Williams in the wake of his pastor's death wrote the poignant "What Are We Going to Do Now" where as the track "Moments of Heaven" was penned with the idea of family, friendships and more granting us moments of "Heaven on earth."
Making this transition from mainstream county music to a Christian deal with Word Records was an organic progression for the band that has been known for such positive hits as "I Believe," "Mama Don't Forget to Pray for Me" and "One More Day."
"We're revealing who we are. We're not preaching. We're not preachers, but we're saying, 'This is who I am and I'm proud of it,'" says member Jimmy Olander. "God is working and we're here for a reason."
Diamond Rio teamed up to write with some of the Christian industry's most recognizable songwriters for their newest recording including Matthew West (Rascal Flatts, Point of Grace), Bernie Herms (Casting Crowns) and Chris Eaton (Vince Gill, Margaret Becker).
"We've gone to great efforts to try to make sure we've written a record that's from the heart," adds Olander. "These songs share what we believe in. This is who we are."
The Reason's first single "God Is There," an anthem of hope and a powerful reminder in troubled times, will impact radio on Jul. 31.
The autobiography Beautiful Mess from Thomas Nelson will coincide with the album release of The Reason. The band's first book chronicles both their personal and professional legacy.
Formed in 1984, Diamond Rio features lead singer Marty Roe, guitarist Jimmy Olander, drummer Brian Prout, keyboardist Dan Truman, bassist/harmony Dana Williams and Gene Johnson on mandolin/harmony. The band has sold over 10 million albums earning three platinum and five gold records. Their last recording, A Diamond Rio Christmas: The Star Still Shines, marked their debut with Word Records.