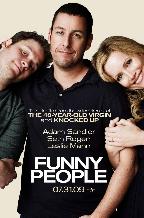 Funny People, Rated -R
Catholic Office of Film Broadcasting
Told he has only a short time to live, a successful but isolated Hollywood comedian (a pitch-perfect Adam Sandler) hires a struggling comedy novice (Seth Rogen) as his assistant and sidekick, but their budding friendship is threatened by the protege's disapproval of his mentor's potentially destructive reunion with a now-married ex-girlfriend (Leslie Mann). Under a thick crust of raunchy humor and ostensibly misguided sexual attitudes, mature viewers willing to endure a barrage of vulgarity may discern a moving affirmation of moral courage, marital fidelity and the pursuit, however halting, of a meaningful, committed life in writer-director Judd Apatow's overlong but generally effective seriocomic tale. Brief graphic nonmarital sexual activity, adultery, upper female nudity, pervasive rough and crude language, and a half-dozen uses of profanity. L — limited adult audience, films whose problematic content many adults would find troubling.  More movie reviews.