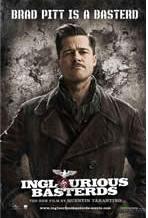 Faith Film Review: Inglourious Basterds (R)
Catholic Office of Film and Broadcasting
— Provocative World War II fantasy in which a team of ruthless Jewish-American commandoes led by a hard-bitten Southern officer (Brad Pitt) and a young French Jewish woman (Melanie Laurent) passing as a gentile cinema owner in occupied Paris plot independently to assassinate key Nazi leaders during a gala film premiere, even as the German officer (Christoph Waltz) who killed her family threatens both schemes. Between episodes of graphic bloodletting, writer-director Quentin Tarentino weaves a suspenseful, though somewhat lurid, alternate history, but the Americans' systematic brutality toward enemy soldiers can only be accepted within a genre far removed from reality and on the supposition that all Teutonic combatants were Holocaust enablers. Strong violent content, including torture and mutilation, complex moral issues, a few uses of profanity, and much rough and some crude language. L — limited adult audience, films whose problematic content many adults would find troubling. (R) 2009.  Full Review.
More reviews at Catholic Office of Film and Broadcasting