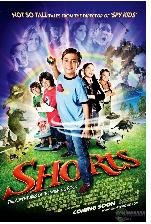 Faith Film Review: Shorts (PG)
Catholic Office for Film and Broadcasting
Shorts — Clever children's fantasy about a rainbow-colored rock that grants the wishes of anyone holding it, and the chaos its misuse wreaks on the lives of a bullied schoolboy (Jimmy Bennett), his parents (Jon Cryer and Leslie Mann), his chief persecutor (terrific newcomer Jolie Vanier), her tycoon father (James Spader) and their suburban community in general. Told in a series of nonsequential episodes, writer-director Robert Rodriguez's lively yarn, which carries messages about the dangers of power and the isolating effects of contemporary technology, generally makes for appealing family entertainment, though perilous special effects may overwhelm the most sensitive viewers, while some parents may find a story line about a mucus monster unpleasant. Occasional menace and mildly gross humor. A-II — adults and adolescents. Full Review.  Other movie reviews here.