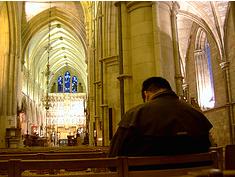 Congregations to Invite Friends, Family, Former Members to 'Rethink Church'
SAN DIEGO, CA – As millions of Americans head back to school, organizers of a new faith-based outreach campaign hope that millions more will come back to church as well. The "Back to Church Sunday" campaign (https://www.backtochurch.com) from San Diego-based Outreach Inc. makes it easy for church members to invite their friends and family by creating a worship service specifically geared toward visitors.  The program kicks off with national "Back to Church Sunday" on Sept.13 aimed at reaching the "un-churched" and "de-churched"- people who used to go to church, but don't any more.
The campaign is based on a simple idea. If you ask un-churched people to come with you to church-mostly likely they'll say yes.
LifeWay Research, an arm of the Southern Baptist Convention, found that 82 percent of un-churched people surveyed said that they'd be open to visit a church, if a friend or family member invited them.
Unfortunately, said Thom Rainer, president of LifeWay, few church members invite their friends and neighbors. "Only two percent of church members invite an un-churched person to church," he says. "Ninety-eight percent of churchgoers never extend an invitation in a given year."
While most Americans say they believe in God, and many tell pollsters that they attend church regularly, only about 20 percent of Americans actually show up in church on Sunday, according to the "The American Church in Crisis," a recent study of church attendance.
Organizers say most people who drop out of church haven't lost their faith in God. Instead, they fell out of the habit of churchgoing. Some moved or had another change in life circumstances, or had a falling out with their former church and simply drifted away. Most often, life simply became too busy.
That means they are open to returning to church.
"Many de-churched people are a simple re-invitation away," says Mark Batterson, of the National Community Church in Washington, D.C.
Inviting newcomers is only part of the campaign. The other part is getting the church ready for them to show up. Outreach has put together several tools to help churches prepare for visitors.
A free downloadable planning guide offers advice on everything from sermon planning to instructions for greeters. Churches are asked to plan for the program and to make sure their buildings are visitor friendly. They're also encouraged to pay attention to small details-like clear signage and clean bathrooms-that are important to visitors.
"When people come to church for the first time, or come back after a long absence, they notice everything," says Nelson Searcy, lead pastor of The Journey in New York City. "In fact, most of them form innate judgments about the environment within seven seconds of walking through the door."
Organizers point out that returning to church is a process. "Rebuilding trust with this group is essential, and building trust requires authenticity and consistency," says the campaign-organizing guide. "Otherwise, your returning guests may feel that you have tried a 'bait and switch.'"
Along with the campaign planning guide and an interactive Facebook page (https://www.facebook.com/backtochurch), Outreach has put together a "Rethink Church" booklet, addressing the 10 top reasons why people drop out of church, along with videos, articles and other resources. The booklet addresses common objections such as, "I don't believe in organized religion," "Church is boring," and "Christians are judgmental and hypocritical."
"Back to Church Sunday has the potential to be a day that changes the future course of someone's life," says Chad McCallum, lead pastor of Compass Church in Byron Center, Mich. "In a world where so many people fall into the definition of 'de-churched,' this is a doable effort for any church that wants to reach more people for Christ."
Outreach, Inc. (https://www.outreach.com) is the largest provider of outreach products and services in North America, including "Outreach" magazine, the most-read pastor's magazine in the world. The company was launched with the mission of empowering Christian churches to reach their communities for Jesus Christ. Outreach, Inc. endeavors to create a network of churches and ministries working together to invite and connect every person in America to a Bible-believing church and ultimately into a personal relationship with Jesus Christ.
###