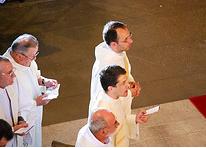 By Oregon Faith Report,
While some speak of a national spiritual decline and aging priesthood there is a new generation of spiritual leaders  very different from their predecessors.  This summer, the Portland Archdiocese ordained the highest number of priests in 35 years.  A new study has found that a smaller group of more racially and ethnically diverse recruits attracted to traditional prayer ritual and spiritual habits.  The study was conducted by Georgetown University's Center for Applied Research in the Apostolate for the National Religious Vocation Conference.
The study found that the aging of American priests and nuns is prevalent, according to The New York Times.  91 percent of nuns and 75 percent of priests are 60 or older.  However, the aging tide may be turning.  Of women who recently entered religious orders, the average age is 32; for men, it is 30.
According to CathNewsUSA, the study also showed that whites account for 94 percent of current priests and nuns but only 58 percent of those in the process of joining orders.  Asians and Pacific Islanders are disproportionately represented among the new recruits, accounting for 14 percent, far above their 3 percent share of the Catholic population in the U.S.  Hispanics represent 21 percent of the new recruits, compared with only 3 percent of the current priests and nuns.  The growing ethnic diversity of this new group reflects shifts in immigration patterns in the U.S.:
Another finding of the study is that new members of orders are drawn to religious life primarily by a sense of calling and longing for prayer and spiritual growth and less so out of a desire to do ministry, as in previous generations.
Of the new priests and nuns who recently joined religious orders, two-thirds chose orders that wear a habit all the time or regularly during prayer or ministry, the study found, according to CathNewsUSA.
The study comes as the priesthood continues to recover from the clergy sexual abuse crisis.  As a result, the church has been looking for new and more targeted ways to attract both priest and nun recruits.  It is hoping a more modern approach might help shift attitudes among today's youth.
These newer marketing methods include staffing booths at youth conferences, displaying posters, producing and airing ads in movie theatres, even running YouTube spots and utilizing other internet venues.  The church is also targeting parents who are less likely to encourage their sons to enter the priesthood, according to ABC News.
The church also continues to recruit priests from other countries, including India.  Young men joining the priesthood are abundant in India.  As a result, they are heavily recruited from churches in the U.S., Europe, Latin America and Australia.  Currently, there are at least 800 Indian priests working in the U.S., according to The New York Times.