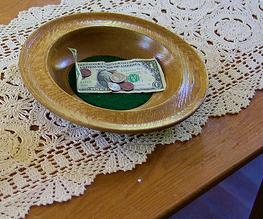 Institute on Religion and Democracy — The highly controversial and scandal plagued Association of Community Organizations for Reform Now (ACORN) has received multiple grants from Presbyterian Church (PCUSA) agencies, according to The Presbyterian Layman. Both houses of the U.S. Congress recently voted to defund ACORN amid allegations of voter fraud and openness to under-age prostitution.
Among those ACORN projects receiving Presbyterian money were:
-$7,500 from the Presbyterian Hunger Program for "general support"
-$10,000 to the ACORN New Orleans office for "community organizing"
-$35,000 from the PCUSA Self Development of People fund "to address the issue of security"

The General Assembly Mission Council of the PCUSA has often allied itself with ACORN, joining lobbying efforts against the Federal Housing Reform Act, opposing funding for the No Child Left Behind program and lobbying President Bill Clinton for a variety of social issues.
The PCUSA grants are one example of direct financial support for the beleaguered organization. In 2004, the National Council of Churches (NCC) coordinated with ACORN to increase voter turnout and "education," with a special emphasis on demographic groups in the population that tend to vote overwhelmingly Democratic.
IRD President Mark Tooley commented:
"As ACORN implodes amid scandal, it will be interesting to learn whether other church agencies funded the activist group.
"Many Presbyterians would be aghast to know that some of their collection plate money was underwriting ACORN.
"As Presbyterians cut overseas missionaries from their rolls, how scandalous they still had funds for ACORN."
The Institute on Religion and Democracy, founded in 1981, is an ecumenical alliance of U.S. Christians working to reform their churches' social witness, in accord with biblical and historic Christian teachings, thereby contributing to the renewal of democratic society at home and abroad.