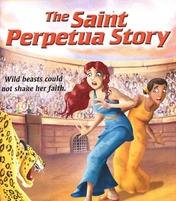 New Animated Catholic Film Inspires Catholic Youth to Live With Fearless Faith
– "The Story of Saint Perpetua" Wild animals could not shake her faith!
By catholicheroesofthefaith.com
In an age increasingly resistant to faith, no one is more vulnerable to secular attacks than our children. Catholic Heroes of the Faith presents "The Story of Saint Perpetua", a riveting, true account of a young woman whose faith and eventual martyrdom has left a lasting impression throughout the centuries. This first episode of the new animated series will inspire Catholic youth to respond with fearless courage and unselfish love in the midst of a godless culture.
According to the review on the United States Catholic Council of Bishop's website, "This is an uplifting half-hour animated dramatization of the arrest, imprisonment and martyrdom of saints Perpetua, Felicity and their companions, in the North African city of Carthage circa 203 AD. Aimed at viewers eight and up, the hand-drawn cartoon adheres to the journal Perpetua kept in prison, and shows her pagan father's efforts to convince her to abandon the faith, her bold testimony during her trial and — as recorded at the end of the journal by a follower — her fortitude in the arena."

The DVD also comes with special teaching features including English and Spanish languages with optional English and Spanish subtitles, comprehensive leader's guide with lesson plans, reproducible student handouts that include comprehension and discussion questions, puzzles, activities, coloring, and more. In addition, there is a cutting-edge interactive website specially designed to captivate kids with family-friendly videos and downloads related to the film.
This integrated set of high quality tools is an excellent catechetical resource for parochial schools, CCD classes and home schooling! "'The Story of Saint Perpetua' is a beautiful way to see, in the cares of a long-ago youth, a reflection of the concerns of today's youth and to find a model response to the challenges of a culture hostile to the faith," says Catholic historian and author, Mike Aquilina. "When kids see what God can do through a person devoted to His will and purposes, they too may want to demonstrate an unswerving commitment to Christ and His Church."
About "Catholic Heroes of the Faith"
Catholic Heroes of the Faith is an animated series geared primarily to children 8-12 years of age, which presents true-life accounts of outstanding Early Church heroes of the Catholic faith. "The Story of Saint Perpetua" is the inaugural episode of the series.
And soon to be released is an accompanying 55-minute documentary with Early Church expert Mike Aquilina. This excellent companion piece, that contains footage of the actual locations where St. Perpetua's story took place, is a valuable resource for schools, libraries and families and is a wonderful resource that presents St. Perpetua as a real person and not just an animated character.
Additional endorsements:
"Well done and quite inspirational! I was very impressed indeed, both with the historical accuracy of the content and with the entertainment value." — Rod Bennett – Author of "Four Witnesses: The Early Church in Her Own Words"
"The scriptwriters did their homework well, and have produced a story with a high degree of historical accuracy. The artwork is also of a consistently high quality. The richness of the colors and the vividness of the character drawings are at times reminiscent of The Prince of Egypt and other Hollywood productions." — Carl Sommers – Catholic Educator and Author
For more information visit www.catholicheroesofthefaith.com.
For purchase order contact:
Vision Video
1-800-466-7351
[email protected]