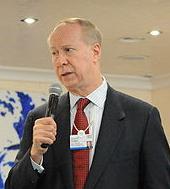 By Oregon Faith Report,
David Gergen, CNN newsman and presidential adviser to Nixon, Ford, Reagan, and Clinton will share his thoughts on the intersection of church and state in reducing poverty  at the 2009 Catholic Charities gathering Sept. 24-26 in Portland.   Also, free pancakes, doughnuts and coffee will be handed out to an expected 1,000 bikers along Hawthorne Bridge between 7-9am Wed. Sept. 23rd.  This is to raise awareness on poverty.  The breakfast is team effort of Catholic Charities and the bicycle organization Shift. Find out more here.

Event announcement from Catholic Charities:
Great Reasons to Attend the 2009 Annual Gathering
* Meet and learn from David Gergen, CNN newsman and presidential adviser. Gergen will share his thoughts on the intersection of church and state in reducing poverty in America. Gergen will take questions and encourage a frank discussion on issues that impact your agency.  Sponsored by Arent Fox.
* Be a part of history and help us kick off our Centennial year! Join us at the Centennial Leadership Summit and shape landmark legislation that will guide our work for another 100 years and beyond.
* Select from over 40 workshops covering subjects essential for Catholic Charities and social service professionals in this trouble economy.
* Participate in pre- and post-gathering special events such as the liturgy at St. Mary's Cathedral with Archbishop Vlazny, the Gala at the World Forestry Center, the "Cycling for Change" Fun Ride, and more!
Special Message from Archbishop Vlazny
It is my hope and prayer that your time in the City of Roses will provide you with opportunities to nurture your faith, deepen your commitment to ministry and service, and to enrich your mutual support of each other, while finding time to relax and celebrate amidst the beauty of God's creation that is all around us in this wonderful city. more…
– Most Rev. John G. Vlazny, Archbishop of Portland
Registration Hours
Wednesday, September 23 — 3:00 pm – 6:00 pm
Thursday, September 24 — 7:30 am – 6:00 pm
Friday, September 25 — 7:30 am – 6:00 pm
Saturday, September 26 — 8:00 am – 4:00 pm
Continuing Education Units (CEU) & Letter of Attendance
In an effort to make your attendance at the Catholic Charities USA Annual Gathering even more beneficial we have arranged for CEU credits through the Catholic University of America School of Social Work in Washington, DC.
In your conference tote bag will be a form for you to gather appropriate signatures from the sessions you attend. Directions on how and where to submit the form will be on the material in the tote bag.
After the conference, all full-fee paid registrants (including first-timers and students) will be mailed a Letter of Attendance. This letter along with the descriptions of the workshops you can print from our web site can be submitted to your local accrediting bodies for possible credit.