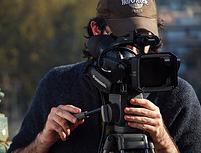 After `Da Vinci,' Opus Dei cautiously optimistic about new film
By Nicole Neroulias
Religion News Service
Three years after "The Da Vinci Code" sent Opus Dei scrambling to counter the film's depiction of a masochistic, murderous cabal, members of the Catholic organization have cautious hopes for a biopic of their founding father, St. Josemaria Escriva de Balaguer.  "There Be Dragons," which is currently filming in Argentina, is helmed by Oscar-nominated director Roland Joffe, whose previous works include "The Mission" and "The Killing Fields." The film is produced by Ignacio G. Sancha, an Opus Dei member who stresses that the film's $30 million budget comes from a range of investors, including several atheists.
"There are all kinds of ideologies and people involved," he said. "I think this movie would be much less interesting if someone attached to the church was to do it."
Founded in Spain in 1928, Opus Dei (Latin for "work of God") has more than 80,000 members worldwide, most of them lay people who are drawn to its message of finding spirituality in secular life. While members have helped secure financing for the film and serve as on-set consultants, an earlier screenplay that was written by a former nun was shelved for one penned by Joffe, a self-described agnostic.
Even so, the project has excited many Opus Dei members, who see it as a chance to set the Hollywood record straight while honoring their founder, whose 2002 canonization prompted a public outcry over Escriva's alleged sympathies toward Spanish dictator Francisco Franco and Adolf Hitler.
The movement has also come under criticism from other Catholics, including some former members, for being secretive, overly aggressive in recruitment and too conservative.
Some Opus Dei critics complain that "There Be Dragons" sounds like a propaganda piece, while some members also remain wary of any big screen depictions, given the public relations nightmare from "The Da Vinci Code" book and film.
"It's obviously not going to be another `Da Vinci Code,' but you really don't know until you actually see it," said Brian Finnerty, the U.S. spokesman for Opus Dei.
"But, I'm hopeful there are some good possibilities here. So much of St. Josemaria's message has great potential appeal—finding God in everyday life, love for freedom, respect for all people, regardless of political differences."
Joffe, who said he initially shied away from the project, said he was ultimately intrigued by the chance to dramatize the life of a modern-day saint, particularly considering Escriva's "liberating" view that a path to God could be found in an ordinary life.
"I thought it would be very interesting to make a movie about what a saint might mean for us in this day and age, because of course we tend to think of saints as being rather ancient artifacts," he said. "We find ourselves making a film about love, human love and divine love, about hate, about betrayal, about war, about mistakes, about everything it is to be a human being."
The film's star, Charlie Cox (previously seen in "Stardust"), was raised Catholic but said he goes to church infrequently. When asked whether he thought Escriva was a saint, he called him "an extraordinary human being," but said he preferred to leave such determinations to the church.
The film is set during the Spanish Civil War, and its title refers to its themes of exploring hatred, guilt and forgiveness, Sancha said. It's slated for a 2010 release, ideally with a debut at the Cannes International Film Festival, he added.
Until then, Finnerty said his organization will probably withhold further comment on "There Be Dragons," while hoping the Opus Dei consultants will ensure the project remains historically accurate, not just marketable.
"This is a project of director Roland Joffe, and not a project of Opus Dei," Finnerty said. "I hope it turns out well, but I won't know until opening day."
By Nicole Neroulias
Religion News Service — please visit