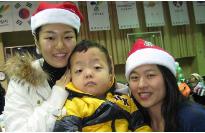 Brighten the life of a child in Korea this Christmas
Holt International, Eugene, Oregon
Holt needs volunteers to sign up for this year's Gift Team trip to Korea. Every December volunteers on Holt's Korea Gift Team deliver gifts and host celebrations for the children, foster mothers and caregivers at the Ilsan Center and Jeonju Babies' Home—A tradition that the children look forward to every year.All year long the children, of all ages, make gifts and practice songs and skits as they prepare to entertain for the Gift Team's arrival.
Members of the Gift Team also get the chance to tour the grounds and cottages of the Ilsan Center, and learn more about the history of Holt's work in Korea.
If you would like to join the Gift Team to Korea and help bring some holiday cheer to the children in Holt's care, please contact Ann Marie Pentacost at [email protected]  for more information and to receive a registration form.
Travel: December 1-8
Registration Deadline: October 4th

Estimated Cost: approx. 2,800-3,330 per person to include airfare, hotel, ground transportation in Korea, most meals.
By Holt International, Eugene