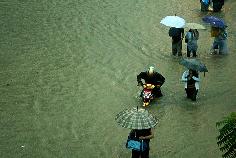 Medical Teams International Helps Filipino Typhoon Survivors
Portland, Ore.,
More than 500,000 people are homeless and at least 141 people are confirmed dead since Typhoon Ketsana roared across the Philippines this past weekend. Medical Teams International is accepting cash contributions now to help.  "We have medicines on the way to the scene and are in touch with two of our Global Relief Alliance partners who are responding in the field. 
"We know we will be sending help, we just do not know yet if our teams are needed," said Tammy Teske, Medical Teams International's manager of emergency relief.
Deadly rains left residents scrambling for survival Friday and Saturday as 20 foot-walls of water covered their homes.  Families were stranded on roofs for 24 hours.
One partner asked:  "Please pray that the children will not get sick ….pray that the weather will improve. Pray that the families will keep their hope. There are families who entirely lost their belongings because of the flooding."
To make an immediate, secure gift, please go to www.medicalteams.org.  Or call,  (800) 959-HEAL.  Or send your contribution to:  P.O. Box 10, Portland, OR 97207-0010.
– XX –
Since 1979, Medical Teams International has shipped more than 1.2 billion in antibiotics, surgical kits and lifesaving medicines to care for 35 million people in 100 countries around the world. More than 2000 volunteers meet the needs of people worldwide each year.