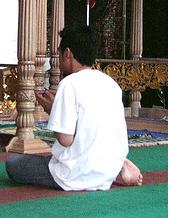 How many spiritual pilgrimages also include food reviews?
By Solange De Santis, Religion News Service,
NEW YORK—During the Muslim holy month of Ramadan, New Yorkers Aman Ali, 24, and Bassam Tariq, 22, are breaking the 12-hour daily fasts at iftar dinners and prayer services at a different mosque each evening. Their blog, "30 Mosques in 30 Days" (https://30mosques.tumblr.com), includes cell-phone photos of plates of rice and fried catfish, but Ali and Tariq said they are making discoveries about New York's Muslim communities—and about themselves—that go deeper than a bowl of soup. On Monday (Sept. 14), as the duo visited Masjid Khalifah in Brooklyn, they said the "30 Mosques" project wasn't planned and slowly took on a life of its own after Ramadan started on Aug. 21.
"On the first night of Ramadan, we were praying at a mosque on the Lower East Side and we said, `Wouldn't it be crazy if we went to a different mosque each night?'" Ali said. "I posted on Twitter and Facebook that we were going to do this and people wanted to see photos. After two days, we got a site up."
For the first few days, they visited mosques in Manhattan, including Harlem's Masjid Malcolm Shabazz, where Malcolm X once preached. Friends for about a year, Ali and Tariq share a South Asian heritage. Ali, who is a journalist and stand-up comedian, is of Indian descent and grew up in Ohio; Tariq, an advertising copywriter, was born in Pakistan and grew up in Houston.
In their second week, the pair ventured into New York's other four boroughs and found their journey was attracting interest from local TV and from around the world. "After a few days, the blog got more and more traffic. We got e-mails from Singapore, China, India, South Africa," Ali said.
What they discovered is that New York's 800,000 Muslims and more than 100 mosques are remarkably diverse. "There's a curiosity about New York; it's the largest Muslim community in America and a cross-section of the Muslim population of the entire world," said Ali.
The trip is inspiring them to venture outside their South Asian community. In Brooklyn, Tariq (going solo for once) deliberately visited a mosque with a primarily West African congregation, instead of a more familiar Bangladeshi one two blocks away. On the blog, he acknowledged feeling awkward and wondering if other worshippers were wondering why he hadn't gone to the Bangladeshi mosque.
The two also visited mosques with Albanian, Egyptian and Indonesian congregations. Some e-mail correspondents, Ali said, said they wished they could find a variety of mosques where they live, but have to travel miles to find even one mosque.
They also found that mosques have different practices. Some have completely separate men's and women's areas for prayer and dining; others, such as Masjid Khalifah in Brooklyn, feature separate prayer sections but communal dining areas. Ali acknowledged that as a man, he may be only seeing one-half of the experience at any given mosque, but noted that several women had joined their pilgrimage and posted to the blog.
"What we are seeing is very personal to us. By just praying once in a mosque, it's not a full experience," Ali said.
Their blog doesn't address many of the political issues percolating in the Muslim community, but they still notice possible residue of post-9/11 discomfort: they are sometimes questioned when taking photos. "The community in general has a little fear," said Tariq.
They seldom call ahead to a mosque or make appointments, wanting to "make sure this doesn't feel like work," Ali said. In most mosques, they say they've been warmly welcomed. At Masjid Khalifah, they, along with several other visitors, were introduced to the congregation after prayers. The feeling of welcome, Ali said, "has been the biggest blessing," and for Tariq, a welcome change from some earlier encounters.
Since the focus is on the spiritual aspect of Ramadan—with its emphasis on self-knowledge, charity and becoming closer to God—both Ali and Tariq said they are not only gathering recipes, but also deepening their faith.
The two men particularly noted the universal traits of Islam—Arabic prayers and the Quran—that transcend ethnic differences or divisions.
"The whole world opens when you say, `salaam alaikum' (Peace be with you.) It's the one universal greeting," Tariq said.
Ali nodded in agreement, then reminded his fellow traveler, "We still have to visit that Afghan mosque in Queens."