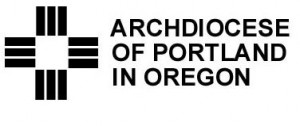 From Portland Archdiocese,
Archbishop John G. Vlazny will ordain three men as permanent deacons on Saturday, October 31, at St. Mary's Cathedral of the Immaculate Conception (NW 18th & Couch Streets) in Portland. The Mass of Ordination will begin at 11:00 a.m. Those being ordained are: Martin T. Larner, Jr., John M. Rilatt, and Richard A. Williams.
Martin T. Larner, Jr., was born in Indianapolis, IN in 1952. He attended elementary school in Sun Valley, CA and graduated from high school in Burbank, CA in 1970. He graduated from Los Angeles Valley Junior College with an Associate of Arts degree in Police Science. He also studied at California State University at Los Angeles.
Martin and his wife Jessie have two children, and make their home in Roseburg. Martin served with the Los Angeles County Sheriff department for five years, and was a police officer in the City of Roseburg from 1979 through 2005, when he retired. As part of his training for ordination as a deacon, Martin completed the Pastoral Ministry Certificate program through the University of Portland. He has also served in ministry at St. Joseph Parish in Roseburg and at St. Francis Parish in Sutherlin,
John M. Rilatt was born in 1967 in Portland, OR. He attended Holy Redeemer Catholic School, and graduated from Central Catholic High School in 1985. He and his wife Christina have two daughters. John completed the Pastoral Ministry Certificate program through the University of Portland in 2008.
As part of John's training for the diaconate he has assisted at liturgical services at Holy Redeemer Parish, and he assisted in the training of readers and extraordinary ministers of the Eucharist. As part of the Ministry Certificate Program he initiated a ministry to the home bound, and completed a practicum in ministry at Immaculate Heart of Mary Parish in Portland. He has volunteered as a Compassionate Care Companion for the Martha & Mary Ministry, and has been a part of the parish St. Vincent de Paul Society. He has served on the parish finance committee for seventeen years. He is a member of the Campus Ministry Team at Central Catholic High School.
Richard A. Williams was born in 1942 in Newport, RI. He attended St. Joseph elementary school in Hawthorne, CA and graduated from Junipero Serra High School in 1960. Richard studied a year of Engineering at Loyola University in Los Angeles and then qualified for the U. S. Navy Flight Cadet Program. He served three tours of duty in the Vietnam War. He continued in the Active Reserve Program until 1985. Richard and his wife Vivian were married in 1977 and have two sons. He graduated from California State University Hayward earning a Bachelor of Arts degree in Sculpture and the Fine Arts in 1988.
As part of his training for the diaconate, Richard earned a Master of Arts degree in Pastoral Ministry through the University of Portland. He and his wife moved to Port Orford in 2004. His ministry has been at St. John the Baptist Mission in Port Orford and at Holy Trinity Parish in Bandon.
Deacons are ordained to be a sacramental sign in the Church and in the world. The ministry of a deacon is primarily one of service and charity. Deacons are ministers of the Word, which means they can proclaim the Gospel at Mass, preach and teach in the name of the Church. Their sacramental ministry includes baptizing, conducting prayer services, serving as an official Church witness to marriage and conducting funerals and wake services.
###