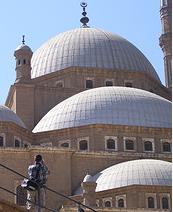 By Traci Scott,
Oregon Faith Reporter
The ongoing investigation of an Ashland-based Islamic charity has recently brought into the spotlight the concerns of national security and unfair targeting of Islamic charities.
Recent federal court filings in the pending criminal case of Pete Seda, who led the now defunct Al Haramain Islamic Foundation, Inc. charity, revealed an unusual exchange that took place late last year between U.S. prosecutors and Russian officials.  During the exchange, prosecutors provided copies of ten computer hard drives that were seized from the charity more than five years ago in return for Russian intelligence information on the charity's financial and other activities.  The information from the hard drive that prosecutors provided to Russian officials may help them in accounting for Russian soldiers who were either captured or killed fighting Islamic forces in Chechnya, according to the Salem Statesman Journal.
The filings shed light on new details that prosecutors assert help prove that Seda and his small charity illegally backed foreign guerrilla fighters in Chechnya.  Seda, who founded the charity ten years ago, is charged with conspiracy and tax fraud and is accused of diverting money overseas to support Islamic fighters.
Seda's attorneys argue that prosecutors had no right to turn over copies of the computer hard drives to the Russians.  In a court filing, they asserted that the exchange was a privacy breach and requested that the hard drives be barred from evidence in the case
Prosecutors allege in new court filings that the arrangement was in fact legal under international treaty, and they now have new evidence that supports their claim the charity wasn't the humanitarian organization it professed to be.  A judge has yet to rule on either of the opposing claims.
There has been a dramatic increase of Islamic charities in recent years. While most are legitimate, considerable evidence reveals that others have more questionable intentions and that their funds may have been diverted to support terrorist groups, such as al-Qaeda.
Since 9/11, various governmental agencies, commissions and officials have asserted that terrorist organizations rely heavily on funding from Islamic charities.  The government has since frozen the assets of many such organizations in both the U.S. and overseas.  Officials say these actions against the charities have aroused anger and opposition among many American Muslims and some civil rights advocates, which in turn has created a public-relations nightmare.
According to Investigative Project, little evidence has emerged directly connecting these charities to individual acts of terrorism, and Muslim leaders and civil rights advocates have charged that the government is over-reaching in its pursuit of these charities.
According to ISIM, there are numerous Islamic associations involved in various forms of charitable work, most notably social and aid relief.  These charities provide food, clothing, medical services, education, income-generating projects and disaster relief.  They often provide better services than state agencies and are often trusted more by the poorer segments of the population.
However, since a significant portion of jihadist and terrorist activity across the world has been funded from the same type of sources, nearly all international Islamic charities have come under scrutiny for possible involvement in terrorism.
This raises the question:  Are the majority of Islamic charities serving as a front for terrorist activities, or is a small minority overshadowing the positive endeavors of the majority?  Many legitimate organizations' work has been seriously hampered by the "war on terror," thus depriving numerous people from the social relief and the aid they desperately need.