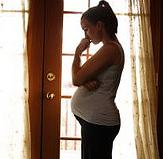 By Beaver Believer,
Portland,
Oregon's ability to help mothers in need just turned more riskier after it was announced that the well known maternity home, Bethany House, will be closing it's doors.    This puts an added burden one the state's remaining faith-based maternity home ministry, Saint Child (formerly known as  House of Ruth).   During the recession is when we need such ministries the most, and now the choices women have are dwindling.  This may be the time to support such efforts.  A recent email from Saint Child explains the new issues they face.  See their letter below;
Dear Friends,
It is with deep regret that I pass on this news.  A few weeks ago, Bethany House, a maternity home in Gresham, shut her doors due to lack of funding.  Bethany House had a 20 year history of serving pregnant women and has had a longstanding relationship with Saint Child.  Beth Rhinehart, founder of Bethany House, will be taking time to regroup and at some point, she may pursue her heart's desire of opening aftercare/transitional housing for young women who have left maternity homes; such as, Saint Child.

Other than Saint Child, Bethany House was the only other faith-based, state licensed maternity home in Oregon.  Apart from us, there are only a small handful of maternity homes left operating in Oregon and these are either state funded or operate in conjunction with a private entity.  Saint Child, however, is funded only through supporters like you and receives no state funding.
This grieves my heart to see key organizations who provide desperately needed services affected by these hard economic times. Here at Saint Child, in light of this news we are feeling a call to pray and ask God to protect the ministry we have and to continue to bless the path of growth He has opened up to us.
Saint Child will continue to offer and provide services to young women who need support during their pregnancies and vulnerable time in their lives and the lives of their unborn.  And even further we are boldly moving forward with opening up another much needed home in Vancouver, Washington. You will be hearing more about this good news in future communication.
Will you please commit to pray for Saint Child during what will probably prove to be the most significant season of the organization's growth?….

If you care about helping moms in need please visit Saint Child and make a support effort.