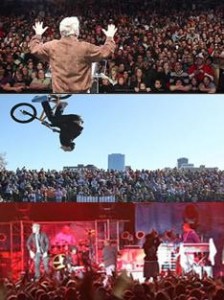 Central Arkansas CityFest: Tremendous Success
Excerpts from Luis Palau Press Release;
Beaverton, Oregon
(North Little Rock, AR) Global evangelist Luis Palau wrapped up his Central Arkansas CityFest campaign this past weekend with local leaders expressing amazement over the unprecedented cooperation among churches, businesses, and government…The CityFest project began 15 months ago when area pastors committed to bringing their congregations and resources to the effort. Of particular appeal to the churches, businesses, and civic leaders was a new component of Palau festivals called the Season of Service…
By festival weekend on October 24-25, more than 4,500 volunteers had served in the Season of Service at more than 175 projects. The concept of combining acts of service with an evangelistic festival has drawn the attention of cities across North and South America, Europe and Asia. Dozens of delegates from potential future cities came to Little Rock to observe and learn from CityFest. Pastors said the Season of Service effort revolutionized their congregations and they look forward to sustaining the effort into the future.The festival itself drew a crowd of 55,000 over two days to the North Shore Riverwalk in North Little Rock.
It featured a nonstop program of music, action sports, and family fun. Top names in contemporary Christian music performed, including TobyMac, Kirk Franklin, Newsboys, and country singer Craig Morgan.
The Livin It® action sports demos featured the Outcast BMX team, the Untitled skateboard team, and extreme athletes from the United freestyle motocross team. In cooperation with the Arkansas Homeless Coalition, a "Homeless Outreach Event" project served an estimated 600 people with services ranging from housing and legal assistance to haircuts, free clothing, hot meals, and medical care including flu shots.
"It was so great to see so many people come together in our community for CityFest," said festival attendee Adam Jordan. "From the churches and businesses that partnered together to make it happen, to politicians from both parties sharing the stage, to seeing kids play in the Family Fun Zone. It was awesome to witness and be a part of."
Palau's messages focused on the compelling needs of young people and families – from fatherless kids to financial challenges and sexual temptation. Hundreds of hands were raised across the massive crowd as Palau extended his straightforward invitation to begin a life of faith. Several thousand "friends of the festival" had been trained to counsel new believers as they begin their Christian walk. More than 260 participating churches will welcome them into their congregations.
Future festivals for Luis Palau and his team include Kingston, Jamaica; Yakima, Washington; San Diego, California; Kampala, Uganda; Santiago, Chile; and Phoenix, Arizona.
# # #