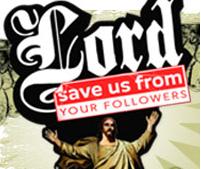 In the movie Lord, Save Us From Your Followers, Dan Merchant set up a confession booth at Portland's Gay Pride celebration to personally apologize to the Gay community for acting unChristian-like in the response to the AIDS crisis and acting indifferent in light of gay harassment.   The idea was inspired by a similar concept at Reed College in the book Blue Like Jazz.

From Dan Merchant,
Lord Save US, Blog
My friends who had read Blue Like Jazz and were deeply moved by the confession booth event at Reed College thought I was nuts. I was disappointed they weren't more encouraging, but I suppose it did sound a little odd, "Hi, I'm a Christian, I want to set up a Confessional Booth at Gay Pride, sounds awesome, doesn't it?"  In fairness, when I told my own pastor about what I had planned, he managed to force a smile and say, "Well, that should be controversial." I thought to myself, "If I do it properly it won't be controversial." But I could understand the apprehension, when was the last time Christians and Gays got together in public and avoided controversy?

Any second thoughts I was having were driven away the week before Gay Pride when I received an email from a buddy who had been faxed a letter of warning from a local pastor. According to the email, God was going to destroy Portland with a tsunami as an act of vengeance against the wickedness of the gays and those who tolerate them … at least according to some pastor's prophetic dream. The waves would crash, the rivers would rise, this group had a safe hilltop south of Portland all picked out and everything.
If I were going to be killed in an Act of God, I would at least be doing what I felt God had called me to do. Using my best Socratic reasoning, I figured if the prophetic pastor and I were both right, if we were both called to do this, I'd drown sharing God's love. If he was right and I was wrong, I'd skip the whole thing and watch the disaster on television. But if I was right and he was wrong, there was no way I would sit home and find out later that yet another prophet had misinterpreted God's message. No, I HAD to go through with it.
Besides, if God calls you to do something, go, He probably knows something you don't know.
We set the Confessional Booth up on crisp morning in late June. As I watched the other booths being erected around me, I began to pray. Usually, right before I screw something up, I'll remember to pray. I desperately wanted to undo the perception of Christians and of God that many of the people I was about to meet undoubtedly will hold. I wanted to beg people to listen to me: "We've been showing it wrong. Don't judge Jesus on my lame-o example. You've heard that part of the Bible where Jesus said, 'he without sin cast the first stone?' I think that part is important."
I prayed for my words in the confession booth to His words. I prayed I'd be able to see anyone who entered the booth as His child. I prayed I wouldn't do or say anything to damage His reputation. I prayed I would serve Him well.