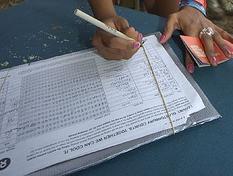 By Oregon Faith Report,
The U.S. Supreme Court blocked Washington state officials from releasing the names and addresses of those who signed a petition referring gay rights legislation to the November ballot.   The ruling temporarily blocks a federal appeals court ruling that had ordered the release of the names.  The Supreme Court order will remain in effect while it considers whether to involve itself in the matter.
The Washington state legislature passed a domestic partnership law for same-sex couples during its last session.  A group called Protect Marriage Washington circulated a petition, Referendum 71, which would repeal that law.  The group has been fighting the state to keep the names of the petitioners confidential, asserting that signers have a constitutional right to partake in politics privately if they face a threat of harassment from political opponents.

The group turned to the court after one gay-rights activist threatened to post the names of signers on his website, just as activists have done in at least three other states, including California with its similar Proposition 8 measure.  The group said signers of the petition fear hostile confrontations and harassment from gay rights supporters and noted that their campaign manager had received death threats.
Larry Stickney, a leader of Protect Marriage Washington, told HeraldNet.com that he considers the Supreme Court's ruling a big win.  "The names and addresses and other personal information certainly won't be getting out before Election Day."
Back in September, U.S. District Court temporarily had barred state officials from releasing the identities of those who signed the referendum petition ruling that releasing the names would infringe on their First Amendment rights.  The 9th U.S. Circuit Court of Appeals then reversed the decision.
Secretary of State Sam Reed said Tuesday he agrees with the reasoning of the 9th Circuit and wants to see the issue clarified as to what his office can and cannot release.  "The Supreme Court is simply preserving the status quo while opponents of disclosure get their full day in court, and we respect that," Reed said in a statement according to HeraldNet.com.
State attorneys argue the petitions are public records and that signing a petition for a referendum or initiative that qualifies for a ballot is a legislative act and voters are entitled to know who is behind such measures.  They also contend that there's little evidence of threats or harassment amounting to more than a few rude phone calls.
State officials say they are concerned that if petition information is protected from public disclosure, then other open government laws—like divulging who contributes to political campaigns—could also be challenged on similar grounds.
However, Bruce Chapman, a former Washington Secretary of State and a former Director of the U.S. Census Bureau, told ProtectMarriageWa.com that the disclosure of the names could "chill democracy" in the state.  "We don't make the votes of people public, we don't make how jurors vote public and we keep Census data private for 70 years," he said.  "Ordinary people are now advised that their privacy is to be set aside in the same way that politicians' privacy was set aside years ago."