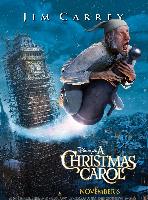 Faith-Family Film Rview: A Christmas Carol
by Catholic Office  for Film and Broadcasting
A Christmas Carol—Lavish, well-crafted but frequently eerie 3-D animated adaptation of Charles Dickens' classic 1843 novella in which miserly misanthrope Ebenezer Scrooge (voice of Jim Carrey) is urged to change his ways by the tortured specter of his late business partner (voice of Gary Oldman) and by the ghosts of Christmas Past, Present and Yet to Come (all voiced by Carrey). Though free of objectionable content, and unabashed about the Christian context of its conversion story, writer-director Robert Zemeckis' largely faithful retelling features images and special effects likely to disturb the most sensitive youngsters. Also shown in Imax. A-I — general patronage. (PG) 2009.  Full review of a Christmas Carol.