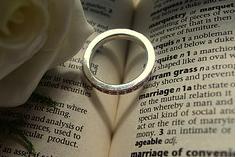 By Traci Scot, Oregon Faith Reporter
It was mixed results for two highly-touted gay-rights measures in states on opposite ends of the country.
In Washington, voters approved Referendum 71, also referred to as the "everything but marriage" law, which expands rights for domestic partners.  It was the first time any state's voters have approved an equality measure for homosexuals.  Gay equality laws in other states, ranging from civil rights to marriage, have either been implemented by the courts or through the legislative process.  The law takes effect December 3.
Meanwhile, Maine voters rejected a state law that would have allowed same-sex couples to marry.  Maine would have been the sixth state in the country to allow gay and lesbian couples to marry but instead becomes the 31st state to oppose such unions.

Both campaigns in Maine spent millions and their messages resonated with voters on both sides.  Opponents stressed that, under the law, public schools would begin teaching children about same-sex unions.  Supporters disputed that claim and had hoped that Maine's moderate and independent-minded voters would have been the first to endorse the same-sex measure.
Same sex marriage is still not allowed under Washington law, but according to The Olympian newspaper, gay rights activists argued that same-sex couples, although they do not currently have the right to marry, should have the right to legal protection and other rights in the interim.
In Oregon, the state's largest gay rights group, Basic Rights Oregon, has initiated a campaign to convince Oregon voters to reverse their 2004 vote and instead support same-sex marriage. Gay couples in Oregon say that marriage would provide them a level of social status and viable benefits that Oregon's domestic partnership law does not provide.
The goal is "to allow same-sex couples to legally marry in this state," Jeana Frazzini, executive director of Basic Rights Oregon, told The Oregonian, "There is no substitute for the respect and dignity that comes with marriage."
However, Oregon Family Council, a church-backed group that successfully ran the Measure 36 campaign in 2004, plans to oppose the measure.  "To redefine marriage is a radical perspective," said Tim Nashif, political director for the group, in an interview with The Oregonian.
Oregon, Washington, California, New Jersey and the District of Columbia, have laws that either recognize civil unions or domestic partnerships that provide same-sex couples similar rights to marriage.
Same-sex marriage is legal in Massachusetts, Connecticut, Iowa and Vermont, and will start in New Hampshire in January.