Medical Teams International Joins Trailblazers In Helping Homeless
By Medical Teams International,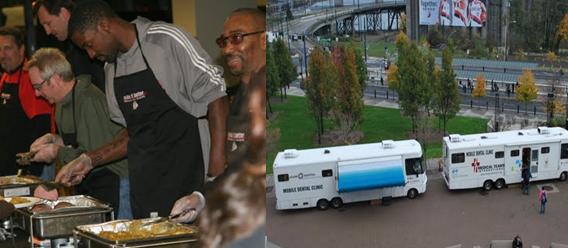 (PORTLAND, Ore. Nov. 6, 2009) — Medical Teams International successfully held its largest, one-day mobile dental clinic yesterday at the Rose Garden in Portland. In support of the Portland Trailblazers' 14th Annual Harvest Dinner, Medical Teams International sent out five dental vans and dental teams. The Portland-based organization's 30 staff and volunteers provided nearly $30,000 of free, urgent dental care and services for more than 80 patients.  "I just want to tell you how much I appreciate what you do.  I have lived in Portland my whole life, and I have watched Medical Teams International grow," said Mike, one of yesterday's patients. "I think it is great that you do this kind of work here locally as well as working overseas."

Medical Teams Internationals' Mobile Dental Program has provided care for more than 155,000 people in the past 20 years. In 2008, our state-of-the art vans have helped 900 volunteer dental professionals provide free dental care to more than 17,000 patients. For more information, visit www.medicalteams.org.
Donate today to Medical Teams International's Mobile Dental Program and help bring more lifesaving services. Make your security-guaranteed contributions through www.medicalteams.org/donate , (800) 959.HEAL (4325) or P.O. Box 10, Portland, OR 97207.
– XX –
Since 1979, Medical Teams International has shipped more than $1.3 billion in antibiotics, surgical kits and lifesaving medicines to care for 35 million people in 100 countries around the world. More than 2000 volunteers meet the needs of people worldwide each year. Donations can be made by calling (503) 624-1000 or by logging on to www.medicalteams.org.