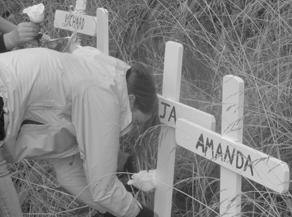 Church ministers to grieving community
By Sheila Allen
NW Baptist Convention
lRIDGEFIELD, Wash. — On August 10 several recent graduates of Ridgefield (Wash.) High School piled into vehicles for a trip to the beach before launching on their own journey to college, military assignments and jobs. With the excitement of life possibilities in front of them, tragedy struck within the blink of an eye.  Four of the graduates were killed in an accident, Aja Gerrity, 17; Amanda Williams, 18, Jason Carter, 18, and Ritche Araiza, 18. A fifth teenager, Dustin Leitzell, 18, survived and after a lengthy hospital stay is now home and healing.

"Amanda, one the teenagers that died in the accident, was an active member of our church, Tri-Mountain Community Church," said Pastor Rob Pengra. "When we first met Amanda, she lived just a few blocks from our home and we invited her to a youth activity. Over the next few years, Amanda became a follower of Christ and a leader in her family and at Ridgefield High School where she was an athlete, cheerleader and a leader of the recently founded Fellowship of Christian Athletes. What we didn't know, however, was the extent of her Christian influence."
Pengra and his wife, Lori, were en route to Texas to take their daughter, Anna, also a recent Ridgefield graduate, to college when the accident occurred, so the Pengras knew many of the students and families left behind to grieve. On hand to give much needed support was associate pator Michael Cooper and his wife, Devon.
Cooper began calling local Christian leaders from the community to make arrangements to minister to the families at the hospital. He then began organizing a community prayer vigil that evening. Lay leaders from Tri-Mountain arrived early to help facilitate the vigil planned on short notice.
"Within hours, Michael, along with other members of our church and community had made contact with several of the families, organized the prayer vigil and began the process of organizing for the funeral services to follow," Pengra said. "Our people just jumped in and served wherever and however they could, from preparing meals to manning phones to provide grief counseling."
Amanda Williams had been encouraged to write in a journal during her daily quiet times and her father revealed that Amanda had been praying daily for her family and friends. Upon receiving her driver's license, Williams was up every Sunday possible to bring her brothers and sisters to church.
"The funeral service unveiled a life that, although ended at 18 years, many could not duplicate if they lived to be 80," Pengra said. "Friends and family members alike stood and spoke about her faith and influence in their life. The coach for the cheerleaders stood and described how Amanda shared her faith whenever she had an opportunity and how so many were inspired to turn to the Lord in tough times. She then led the cheerleaders to the front where they laid her cheerleading jacket on her casket."
After three of the funerals had occurred, Cooper assisted in securing transportation for many students who wished to travel to Pullman, Wash., for the funeral of Jason Carter. Tri-Mountain assisted with funds to supplement the cost of a charter bus for many teenagers who wanted to make the 12-hour round trip.
"One tragedy in any community is one tragedy too many, but I am reminded that what we do on a day to day basis prepares us for the tragedies we all will inevitably face," Pengra said. "Amanda, at 18, did not expect to die so young, yet she used the few years she had to leave behind an eternal influence. As a church, especially a young church like ours, sometimes the work seems to be too difficult. But when I stood before that crowd for Amanda's funeral, I saw the faces who had been touched by our church and the faces of those who had served faithfully and was once again reminded that what we do can and will leave an eternal influence."
Tri-Mountain Community Church was also involved in planning a community memorial service for the townspeople that had been left shaken. The church rented a facility at the request of the high school principal, allowing him to pray at the event that over 1,000 people attended. Students spoke on behalf of their missing friends and Michael Cooper gave a charge to the community, while two other pastors also spoke on grieving and hope.
Church members have heard many words of appreciation from locals. "This accident was as tragic of an event that can happen in any community, but in the middle of it were some amazing stories of faith, hope and service," Pengra said. "The most inspiring part of this tragedy was the life-changing Christian influence that everyone attributed to the life of Amanda Williams whose four years of Christian living will have an eternal impact on so many."