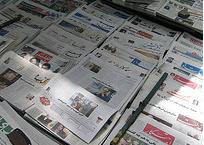 By Kevin Eckstrom
(RNS) When Pope Benedict XVI visited Africa last March, he made countless pleas on behalf of the poor and the war-weary. Yet the words that got the most attention were spoken on the papal plane when he said condoms are part of the problem, not the solution, to Africa's HIV/AIDS pandemic.  And so it was in the year of religion in 2009, when well-intended gestures of goodwill and reconciliation erupted into firestorms of controversy. Even the best-laid plans, 2009 reminded us, often carry unforeseen consequences.
"People can have good motives toward a middle position and cooperation and all of that, but it just turns out to be extremely difficult to do because our divisions are so deep-seated," said John Green, director of the Bliss Institute of Applied Politics at the University of Akron. Many of the controversies revolved around a president and a pope, both of whom spark strong personal reactions.Barack Obama and Rick Warren
In January, President Obama reached out to evangelicals by inviting megachurch pastor Rick Warren to deliver the inaugural invocation. Gay groups seethed because of Warren's activism against same-sex marriage. When Obama offered another prayer slot to openly gay Episcopal Bishop V. Gene Robinson, conservatives detected signs of homosexual activism.
Bishop Bungle
Later that month, Benedict was surrounded by controversy when, in a bid to find a place for disaffected traditionalists, he welcomed back Bishop Richard Williamson, an outspoken Holocaust denier. He spent much of his May trip to Israel trying to patch relations with Jewish groups.
Obama at Notre Dame
Obama was back on the hot seat in May, when he accepted an honorary degree from the University of Notre Dame as conservative Catholics blasted his support of abortion rights. What was partially intended as an olive branch to his opponents in the abortion debate soon morphed into one of the most public, and painful, debates on the essentials of American Catholic identity.
Catholic-Jewish relations
In June, U.S. Catholic bishops sought to "clarify" the church's relationship with Jews—asserting that everyone would be targets of evangelism and conversion. Jewish leaders threatened to pull the plug on 40 years of dialogue. By October, the bishops backed down, saying interfaith dialogue will never be used as a means of covert proselytism.
Anglican opportunity
By year's end, it was the pope's turn again, when he offered shelter to disaffected Anglicans who could no longer abide their churches' tolerance of homosexuality and women's ordination. What the Vatican said was intended as a pastoral gesture quickly became a referendum on the pope's commitment to ecumenism and Christian unity.
"We have two kinds of religion gaps—a gap based on affiliation and identity, which seems to have diminished a good bit, and a faith-based divide based on behavior and ideology, which is much harder to bridge," Green said.
Obama and the Cairo speech
To be sure, some events were largely non-controversial, and indeed well-received, such as Obama's June speech in Cairo in which he tried to recalibrate U.S. relations with Muslims at home and abroad.
"Since 9/11, the story of Islam has been that it's a religion of war or it's a religion of peace—a sort of a ping pong back and forth," said Stephen Prothero, a scholar of American religion at Boston University. "But with Obama, he's trying to reach out the Muslim world in a way that that's more even-handed."
Yet other stories were controversial right from the start.
2009 was a watershed year for the Anglican Communion and its U.S. branch, the Episcopal Church. In January, conservatives launched the rival Anglican Church in North America. Six months later, Episcopalians threw off pressure from sister churches in the Anglican Communion and lifted a three-year-old moratorium on gay bishops, and also voted to allow the blessing of same-sex relationships. By December, Episcopalians in Los Angeles upped the ante by electing a lesbian, the Rev. Mary Glasspool, as assistant bishop—a move that could jeopardize Episcopalians' role in the wider communion.
"It really is a middle finger to the rest of the Anglican Communion," said Prothero. "I was surprised that they were that quick to act, and that they acted that brazenly."
In August, the nation's largest Lutheran church followed suit, voting to lift a ban on partnered gay clergy and same-sex blessings. Within weeks, conservatives announced plans to launch an alternative church body for conservatives who could not go along with the majority.
The church fights over sexuality mirrored larger struggles over homosexuality in the public square, as Iowa, Vermont, New Hampshire and the District of Columbia legalized same-sex marriage and Maine legislators approved it before voters rejected it. Efforts to legalize gay marriage in New York and New Jersey failed.
Abortion returns to front page
Abortion regained center stage in public policy debates, fueled in part by Obama's Notre Dame speech, the shooting death of abortionist George Tiller in the foyer of his Kansas church, and arguments over whether to expand or limit access to abortion as part of health care reform.
As long as abortion remains legal, it's not really "an actual rubber-meets-the-road issue," Prothero said. "But health care makes it a practical question again. If abortion kills health care reform, that's a big story. If it doesn't kill health care, that's probably a bigger story."
Army massacre raises religious extremism
U.S. Muslims were faced with growing concerns about homegrown radicalization after Army Maj. Nidal Hasan killed 12 fellow soldiers and a civilian at Fort Hood in Texas. Within a month, five Muslim men from Virginia who were described as "good guys" were picked up in Pakistan on charges of trying to join an anti-American jihad.
Minaret ban
In the U.S. and across Europe, Muslims expressed deep concern when Switzerland voted to ban the construction of minarets at mosques. Prothero said the Swiss vote offers a stark contrast—and perhaps a comforting reminder for U.S. Muslims—about different approaches to increasingly visible Muslim minorities.
Supreme Court
The display of religious symbols in the public square landed before the U.S. Supreme Court twice this year: justices ruled in favor of a Utah city that declined to include a monument from a small sect alongside a Ten Commandments monument, and the court will decide next spring whether a private cross-shaped war memorial on federal land in the Mojave National Preserve is constitutional.
In an overhaul of the White House's faith-based initiative, Obama named 25 religious and community leaders to advise him on four targeted policy areas: interfaith relations, economic recovery, abortion reduction and responsible fatherhood.
An unusual clash of religious beliefs and public law also erupted in Wisconsin, where Dale and Leilani Neumann were sentenced to 30 days in jail and 10 years probation for the faith-healing death of their daughter, and in Oregon, where Carl and Raylene Worthington were cleared on the most serious charges in a similar case. Raylene Worthington's parents, however, face similar charges in the death of their 16-year-old son after he did not receive routine treatment for a urinary tract blockage.
The religious world lost several leading figures in 2009: conservative theologian the Rev. Richard John Neuhas died in January at age 72; Habitat for Humanity founder Millar Fuller died in February at age 74; and pioneering evangelist Oral Roberts died Dec. 15 at age 91.
By Religion News Service