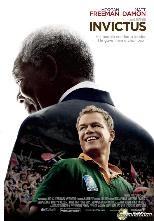 Faith and Family Film Review: Invictus
By Catholic Office of Film and Broadcasting
Invictus—Uplifting sports drama, based on actual events, about South African President Nelson Mandela's (Morgan Freeman) campaign to unite his country behind the national rugby team (led by Matt Damon), once a widely hated symbol of white privilege under apartheid, as it became an unlikely contender in the 1995 World Cup competition. Adapted from John Carlin's book, "Playing the Enemy," director Clint Eastwood's account effectively chronicles how Mandela transformed the race for the championship into an opportunity to break down lingering racial prejudice and to demonstrate the generosity and openness to reconciliation of the newly empowered black majority, a salutary tale whose moral and artistic merits counterbalance the elements listed below, making it probably acceptable for mature teens. Brief scenes of violence, at least one use of the F-word, a few instances of crude and crass language and some mild sexual references. A-III — adults. (PG-13) 2009.  Full Review.