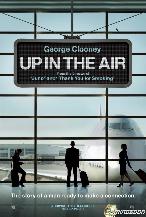 Faith and Family Film Review: Up in the Air
By Catholic Office of Film and Broadcasting
Up in the Air—Polished but morally ambivalent comic drama about an emotionally isolated, though contented, single businessman (George Clooney) who spends his life in chain hotels and airports as he travels from city to city firing employees on behalf of downsizing corporate clients until his rootless lifestyle is threatened by a tech-savvy new colleague (Anna Kendrick), who wants their company to terminate workers via the Internet, and by his deepening feelings for a fellow executive wanderer (Vera Farmiga) with whom he initiated a casual romp. Director and co-writer Jason Reitman's screen version of Walter Kirn's novel is initially engaging and adroitly acted throughout, but the script winks at commitment-free encounters, while what appear at first to be the life-altering events of the plot turn out to be mere incidents with little spiritual impact. Off-screen adulterous and nonmarital sexual activity, brief rear nudity, much sexual talk including lesbianism and masturbation references, a few uses of profanity, much rough and crude language. L — limited adult audience, films whose problematic content many adults would find troubling. (R) 2009. See full review.