Oregon Faith Report Survey Result
(Take New December Survey Here.  Questions on Twilight Movie, Favorite Holiday Movies, more)
TV news is going through a shake-up.   This week 35-year ABC news veteran Charles Gibson will be stepping down as evening news anchor and be replaced with Diane Sawyer.  This may be a good move for ABC as an Oregon Faith Report survey showed him at the bottom of the most trusted network anchors.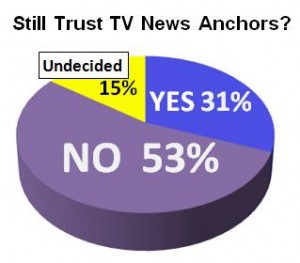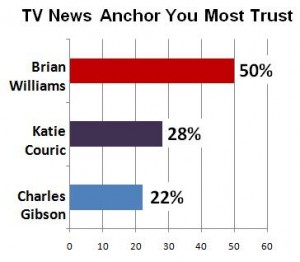 The questions were; (1)With network TV news reaching record lows in viewers, do you still trust any network anchors? (2) For those who have a network anchor they trust, which one?
Cable news is also going through a shake-up.   CNN's Anderson Cooper saw his ratings plummet 62% in one year.  Some say more media choices and a growing public cynicism is all public institutions are to blame for the growing storm over media changes.  What is your opinion?
(Take New December Survey Here.  Questions on Twilight Movie, Favorite Holiday Movies, more.  We use the popular SurveyMonkey.com service so there is no registration or downloading.  Just take 60 seconds to fill out nine questions on faith and ethic issues.)