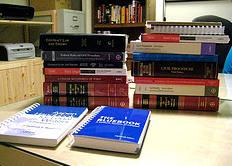 Abstinence-only Sex Education Programs coming to an end for Central Oregon Middle Schools.
By Oregon Faith Report,
Central Oregon middle schools are in the process of changing their sex education curriculum from an abstinence-only program to an abstinence-based program, which is now required by the state.  The Redmond School Board has already approved using the new curriculum; the Bend-La Pine School Board is currently considering recommending the policy change: and the Sisters School Board is likely to vote on the change next month.
The new curriculum, called My Future, My Choice, focuses on postponing sexual relations among teens and features 10 lessons.  According to the Oregon.gov website, the program aims to provide middle school students with the tools to resist social and peer pressure to become sexually active before they are ready.

It meets the requirements of HB 2509, which was passed in 2009, to provide age-appropriate sex education as an integral part of the health education curriculum.  The new law is a revision to a 1993 law.  Comprehensive sexual education has been required by the state since the late 1980s and has been updated through the years, most recently in 2007.
The new law requires that course material be both medically accurate and provide information about the most effective pregnancy and STD prevention methods available.  Abstinence cannot be exclusively taught.
While the new curriculum is considered comprehensive, it won't go into a lot of detail about pregnancy and STD prevention, according to The Bend Bulletin.
Families can continue to opt out of either all or part of the sex education program by completing a form.
According to Social.jrank.org, sex education was originally started in schools to teach students about physical and sexual maturation.  However, over the years the focus has been more about delaying the onset of sexual activity and decreasing teen pregnancy and STD and HIV cases.
Studies conducted from the 1980s to the early 2000s found that an increase in reproductive knowledge did not necessarily lead to responsible decision-making regarding sexual choices, and improving access to contraceptives did not increase the use of contraceptives or decrease teen pregnancy.
Social.jrank.org reports that while 93% of Americans support teaching sex education to high school students and 84% to middle school students, controversy continues to swirl around abstinence-only vs. abstinence-based programs.  Some believe that teaching students about contraceptives will encourage them to be sexually active.  However, research has failed to support the claim that knowledge of birth-control methods actually increases sexual activity among teens, leading some states, including Oregon, to advocate for an abstinence-based program as a more effective alternative.