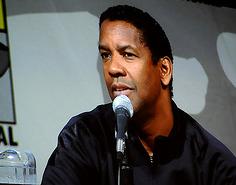 The Book of Eli film debuts this week, and Denzel Washington stars as a post-Apocalyptic fighter who defends the last copy of the Bible on earth.   Washington gave a great interview talking about his Christian faith with Christianity today called "Keeping the faith".  Read it here, below are highlights;
On exercising his faith in the new film:
Denzel Washington: "We prayed about everything, everyday.  And we always ended with 'Amen. God is love.' I thought 'God is love' was one word. It took me a long time to learn what that meant. I don't care what book you read or what you believe—if you don't have love, if you don't love your fellow man, then you don't have anything."
On changing film scripts to better fit his beliefs:
Denzel Washington: "I've tried to bend my roles, even the worst of roles like Training Day. The first thing I wrote on my script [for Training Day] was 'the wages of sin is death.' In the original script, you found out that [my character] died on television. And I said, 'No, no. In order for me to justify him living in the worst way, he has to die in the worst way.' I had Ethan [Hawke] pull me out of the car, and I crawled like a snake. The whole neighborhood turns their back on me, and then I get blown to bits."

On spiritual wisdom;
Denzel Washington: "I'm in this big house with all this stuff. I've heard that saying,'You never see a U-Haul behind a hearse.' You can't take it with you. The Egyptians tried; they got robbed. I said, 'What do you want, Denzel?' And one of the devotional words that day was wisdom. So I started praying on that. 'God, give me a dose of that.' I can't get any more successful. But I can get better. I can learn to love more. I can learn to be more understanding. I can gain more wisdom."
.