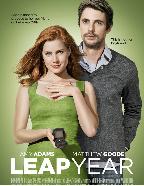 Faith and Family Film Review: Leap Year
By Catholic Office for Film and Broadcasting
Leap Year—Likable romantic comedy in which a controlling Boston real estate consultant (Amy Adams) follows her commitment-shy live-in boyfriend (Adam Scott) to Ireland, where he's attending a cardiologists' convention and where she hopes to take advantage of a national tradition allowing women to propose on Leap Day, but bad weather derails her plans, forcing her to rely on a laidback rural innkeeper (Matthew Goode) to get her to Dublin in time. Though the background details are closer to 1952's "The Quiet Man" than to the post-Celtic Tiger contemporary reality, the central opposites-attract relationship in director Anand Tucker's Hibernian idyll is old-fashioned in the best sense, with physical restraint allowing room for a dexterously acted, if somewhat formulaic, portrayal of deepening emotional engagement, and helping to make this — despite the elements described below — probably acceptable for older teens. Implied cohabitation, some mildly sexual humor, at least two uses of profanity and one of the S-word, and a few crass terms.  A-III — adults. (PG)  2009.  For full review of Leap Year click here.