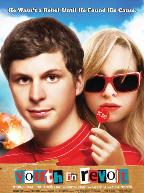 Faith and Family Film Review: Youth in Revolt
By Catholic Office on Film and Broadcasting
Youth in Revolt—Sometimes witty but consistently sex-focused coming-of-age comedy about a lonely California teen (Michael Cera) whose sophisticated cultural tastes make him a fish out of water in his divorced parents' (Jean Smart and Steve Buscemi) lowbrow world, and his obsessive love for a like-minded girl (Portia Doubleday) he meets on vacation at a trailer park. Director Miguel Arteta's adaptation of "Youth in Revolt: The Journals of Nick Twisp" — the first in C.D. Payne's series of novels about the titular adolescent — sees Cera developing a suave but amoral alter ego willing to cause mayhem to help his timid original reunite with, and lose his burdensome virginity to, the object of his desire. Explicit animated images of intercourse, nongraphic premarital (and probably underage) sexual activity, masturbation, drug use, at least one profanity, much sexual humor and considerable rough and crude language. O — morally offensive. (R) 2010.   For Fullr Review of Youth In Revolt click here.