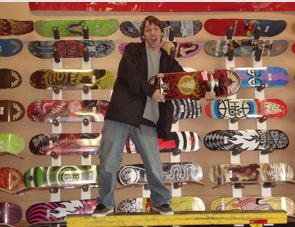 From NW Baptist Convention
Witness Newsletter
SPRINGFIELD, Ore. — A passion for skateboards has coursed through Jason Brown's veins for 25 years. While some might see the allure of the ride as a passing interest for teenagers, Brown's commitment to skateboarding has never dimmed since he first picked up the sport in his native South Carolina.  Brown now owns and operates a shop for skateboards and supplies in his adopted hometown of Springfield, Ore., where he provides a positive environment for the skateboarders who come seeking equipment and conversation for their own passion. "We attract at-risk teenage boys here," Brown said. "It is really sad because they come from broken homes that overwhelm our area, which is in a very poor part of town that suffers from a lot of drug use."
While Brown was raised in a much different environment, he connects with his customers because of early choices he made in life. "I grew up going to church and said I wanted to accept Jesus when I was in the eighth grade, but the next day I was back out smoking pot," Brown said.
"I 'gave' my life to Christ several times, but it was because my brother, who I looked up to, came out of a lifestyle of partying, drinking and drugs that made me sit up and notice. I looked up to him and thought he was cool. But even though I dabbled in that stuff, I was always more interested in skateboarding."
Brown finalized his commitment to follow Christ wholeheartedly after a girlfriend cheated on him and his brother talked to him about his relationship with Jesus.
"I was still a little kid looking for direction when I went to college, and only lasted a year and a half," Brown said. "I joined the military and did my time there, but I always wanted to be a professional skateboarder, though I realized along the way that I was never good enough, even though I was able to get some sponsors along the way."
Following his military service Brown went to Grand Canyon University in Phoenix, Ariz., to obtain a degree in psychology. He met his wife, Melanie, who is from Springfield, and the two were married in 2000.
"I was mentored by a man in Phoenix and I am the man I am today because he poured into me," Brown noted.
The pair made the choice to travel and teach English during a two-year stint in South Korea following graduation, where they fell in love with the people and culture there. The respect and kindness they encountered while there made a lasting impact on the couple, as did the food they enjoyed.
"We went to South Korea with the philosophy of lifestyle missions," Brown said. "This is how I live — some days are really wonderful and others are bad."
Brown has adopted that same philosophy when he and Melanie returned from South Korea with the goal of opening a skateboard shop. Cactus Skateboards, (??) in her hometown, which was named with a nod to the influence on Brown of his years in Phoenix.
"My mentor told me that if I started a skate shop it needed to be a legitimate business, to do things without an ulterior motive," Brown said. "So I started my business four years ago, and it is a core skateboard shop completely devoted to skateboards, skateboard tee-shirts, pants, shoes, videos — anything to do with skating. We do not carry snowboards, surf boards or anything else not related to skateboards.
"I get to live out my life as a man should in front of the customers who come in my shop," Brown said. "Approximately 98 percent of them don't have a dad and the area is really poor. I hire kids from time to time to work in the shop and right now I have a 19-year-old working for me who comes from a difficult situation where he moves back and forth between parents. I don't force my views or religion on him, but it has led to good conversations, because even though he had heard of Jesus, he was completely unaware of who he really is."
Many of the young people attracted to Cactus struggle in life, and find their way to the shop when they shouldn't be there.
"I'll kick kids out if it's in the day when they should be in school," Brown said. "I'll play 'skate'— a variation on the basketball game horse —and get their respect. I joke and cut up with them, but I have threatened to call the school and they bolt out. While they were upset they still came back."
His love of skateboards has taken Brown to over 150 skateboard parks across the United States and other countries, and helped the Browns find Harvest Community Church in Eugene, Ore., as it was just across the street from a local skate park.
"I first started at work at Harvest as a janitor a few hours a week, because the shop isn't able to fully support us," Brown said. "It was an awesome quiet time where I could of several hours where I could put my headphones on and just worship."
Brown was eventually offered the position of youth minister at Harvest, which he accomplishes in a part-time role while also running his business. He tries to put in 20 hours a week at the church and dedicates two afternoons a week to those duties.
"Formal ministry was not an aspiration of mine," Brown said. "I wanted to go to seminary for personal growth in the past, but thought a para-church organization would fit my lifestyle more. Honestly, I wasn't prepared for the stress this job brought, but I am a people-person and relate to most of the parents well.
While there is potential for Cactus Skateboard customers to join the ministry of the church, the distance of several miles deters them because most of them do not drive.
"They are already in the lifestyle of not going to church," Brown noted. "But some of the kids in the youth ministry now skate. This church was comfortable for us from the beginning because people were friendly and interested in us. It has been a great place for us as a family," Brown said , which now includes two small children. "What I do is just me being me," Brown said. "God really backed me in a corner with this ministry, but I love Jesus and I love kids, and it has worked."