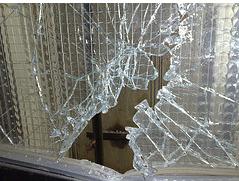 Oregon Faith Report News Note: Criminals do not respect good causes.   This is the unfortunate lesson to charitable workers after witnessing a few break ins at charities and churches in the Oregon area.   Robbers can steal more than money as Springfield learned when thieves took off with charity coats.
Here are three recent examples:
Shelter Break-in: Right before Christmas, a St. Vincent de Paul location in Eugene was broken into with a crowbar as reported by KEZI news.  Stolen were a brand new lap top, blank checks and a cell phone.   More here.

Church construction site raided: Also in the past few weeks, a Vancouver church that was undergoing construction had their site raided for its metal.  The thieves reportedly made off with thousands of dollars in copper in order to resell as scrap metal.  Read more here:

Clothes stolen from charity: In December, the Springfield School District's Brattain House was broken into and thieves stole over a thousand dollars worth of clothes dedicated to local low-income families.  More here.