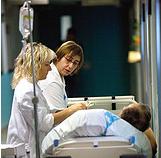 The St. Charles Medical Center in Bend, Oregon was founded by Catholic sisters 92 years ago and now is severing its Catholic ties due to ethic concerns.   The Catholic News Agency reports;
Bend, Ore., Feb 17, 2010 / 05:50 am (CNA).- Citing continued disagreement on Catholic ethical directives such as sterilization, the Catholic Diocese of Baker on Monday announced its intention to end its official sponsorship of St. Charles Medical Center in Bend."It is my responsibility to ensure the hospital is following Catholic principles both in name and in fact," Bishop of Baker Robert Vasa explained in a statement provided to CNA by the hospital. "It would be misleading for me to allow St. Charles Bend to be acknowledged as Catholic in name while I am certain that some important tenets of the Ethical and Religious Directives (ERDs) are no longer being observed."
Bishop Vasa and hospital administrators have "respectfully disagreed" on the meaning of some Catholic ERDs, such as the provision of tubal ligations. The procedure is a form of permanent female reproductive sterilization which violates Church teaching.  The Sisters of St. Joseph of Tipton, Indiana founded St. Charles Bend 92 years ago to serve all patients in need in central Oregon. The hospital became a community non-profit organization in the 1970s but has maintained a relationship with the Catholic Church and had continued voluntarily to follow the Catholic ERDs for health care services.   Continue reading article.