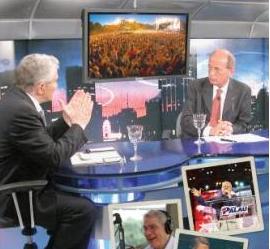 The Plan to Reach 100 Million People in 1 Week
By Luis Palau Ministries,
Working with Enlace, TBN's Hispanic network, and the Luis Palau Association's Hispanic broadcasting friends, LPA will produce six nights of continent-wide, one-hour long interactive TV broadcasts during Easter week (March 28-April 2, 2010). The Q-and-A program will take calls from more than 23 nations, allowing individuals to connect with Luis or another live counselor. The programs will also go out on radio and via the Internet.
Culminating this week-long, continent-wide evangelistic media campaign will be a mini-festival on Easter Sunday (April 4, 2010). It will feature:

* Top musical guests from around the region, including Grammy Award-winner Marcos Witt
* Dozens of other Latin leaders
* Testimonies of changed lives
* A message of hope from Luis Palau
With thousands of individuals expected to pack the Lakewood Church arena in Houston, Texas, for this Easter celebration, and with Enlace Television broadcasting the event internationally, the potential for impact is tremendous!
Please be praying for this far-reaching outreach. Continente 2010 represents an exciting opportunity to bring encouragement, hope, training, and salvation to the entire Spanish-speaking world. Consider joining with us. Your financial commitment to Continente 2010, as God leads, would be a tremendous investment for the Lord.
Outreach Highlights include:
* 7,000 partnering Latin American churches
* 1,500 radio partners
* 200 simultaneous broadcasts
* Hundreds of television stations
* Live Internet streaming
* Tens of thousands of believers trained to follow up with each decision-maker
* Follow-up material for each caller (including LPA's new believer booklet, a Bible, a follow-up phone call from a local pastor, and access to further counseling from ministry partners)
* An online church evangelism kit that will include training tools, curriculum, and LPA's "Bible Institute" videos
* A Luis Palau training blog to inspire and communicate with emerging leaders who in turn can encourage and network with one another continent-wide
* An anticipated 1,000 local evangelistic church events on Easter Sunday
History
Continente 2010 builds on a solid foundation of innovative evangelism in Latin America.
Nearly 35 years ago, during a three-week campaign in Managua, Nicaragua, the Palau team launched Continente '75, a media blitz aimed at blanketing all of Latin America with the claims of Christ.
The Good News was proclaimed on 56 radio stations and more than 100 television stations. Two million pieces of literature were distributed. All told, 80 million people in 23 countries were given an opportunity to hear the Gospel clearly proclaimed.
Ten years later during Easter week, a similar media strategy saturated the Spanish-speaking world with the Gospel message. Special couriers hand-carried the taped Continente '85 radio and television programs into more than 22 countries for broadcast. Millions of people in Latin America, the United States, and Spain heard Luis Palau's messages on more than 330 radio stations and 480 television stations.