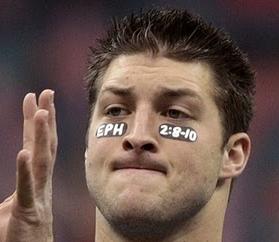 From the Palm Beach Post on the NCAA considering a ban on athlete's who put messages on their faces during games.   Below is an excerpt from the article:
The NCAA's Football Rules Committee is proposing a ban on Tebow's most identifiable feature — the bible verses on his eye black. The new proposal, introduced Thursday, would ban all words, logos, numbers or other symbols on the players' eye black, beginning in the 2010 season.  The rule will not become official until it is approved by the NCAA's Playing Rules Oversight Panel. The NCAA didn't mention Tebow by name, but the rule was already being unofficially dubbed "The Tebow Rule" by media and fans on Friday morning.
Hundreds of college football players use their eye black to boast of their hometown, home area code or love of a mother or girlfriend. But Tebow, a devout Christian, is the most prominent example of a player using his eye black as a personal billboard, having used it the past two seasons to print a bible verse and promote his faith.
After the 2009 BCS Championship Game, 92 million people Googled "John 3:16," the verse Tebow wore during the game. With the new rule, such a phenomenon would never have taken place. The NFL also has a "no messages on the eye black" rule, meaning if Tebow plays in the league, he no longer will be able to adorn his famous bible verses during games.  Continue reading.