Oregon Faith Report Survey,
Oregon recently end all abstinence only education in public schools.  A survey of Oregon Faith Report viewers revealed their choice for sex-education where over 70% do want some form of abstinence education.  28% said they would prefer no-sex at all.
Preferred choice of teaching sex education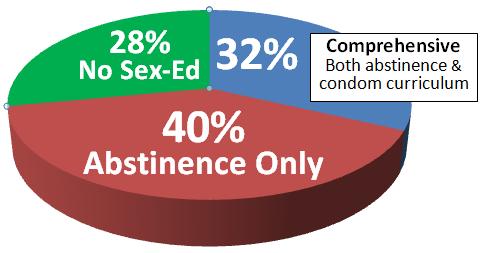 Fill out the new Oregon Faith survey on Obama-Israel debste, Clergy sex abuse, No Child Left Behind, billionaire compassion CLICK HERE,
Comments:
– Would prefer abstinence-only education, but don't feel that is realistic in a public school. I would support a more comprehensive program if the focus was heavy on abstinence-only with a solid moral foundation, but that's likely not realistic for a public school.   
– Sex education alone will not prevent teens from having sex. I think all measures should be taken to prevent teen pregnancies.
– I think that sex education is primarily the responsibility of families and churches and parents should have the option to exempt their students from these classes.
– Sex education has been way out of control for years, and I would want a class to be optional so that parents can choose what their children learn.
– I have never read anything about the emotional aspects of having sex as a young person. The Hollywood and romance novels myths needs to be addressed.
– Pregnancy rates and abotion rates have risen since sex ed has been given in schools. I think that parents should take care of educating their kids.
– The schools I know of, have great programs that honor parents wishes
– Are we not asking schools to do too much?
– The more you know the more you know, why not both?