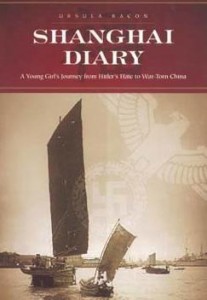 Ursula Bacon will share of her experiences in Germany, China during WWII
From George Fox University,
NEWBERG, Ore. – Holocaust survivor Ursula Bacon will visit George Fox University on Wednesday, March 3, to tell of her experiences of fleeing Nazi Germany. Bacon will speak at 7 p.m. in Room 103 of the university's Hoover Academic Building. The public is invited to attend at no charge.
Bacon fled Nazi Germany with her parents in 1939 and landed in Shanghai, China, along with more than 18,000 other Middle European Jews. The family spent most of the war years in a Japanese-controlled "designated area," often referred to as the "Shanghai Ghetto." She came to the United States in 1947.
She has written a book about her experiences, Shanghai Diary, A Young Girl's Journey from Hitler's Hate to War-torn China.

Ursula Quote: "Germany, February 1918: In the coming months the Great War would come to an end. People dared to think about the future. Irene Burger and Martin Blomberg found each other against all odds as the war ended, and although her rigidly orthodox Jewish parents objected, they were married. Irene, the daughter of an innkeeper, and Martin, a soldier stationed at an nearby garrison, shared a few idyllic years together, but their joy would be short-lived, as the embers of anti-Semetic hate were being stoked even then by Adolf Hitler and the machine he would raise into the Nazi Party, fanned into a flames that would erupt and consume Europe and virtually all who would stand in its way in an inferno of pain and misery. As the horrors of World War II loomed on the horizon, Irene and Martin, two people like millions of others, would be forced to wander, and struggle to stay together, eternal strangers in search of a safe haven to call home."
For more information, contact Clint Baldwin, director of the university's Center for Peace and Justice, at [email protected] or history professor Caitlin Corning at [email protected].
George Fox University is ranked by Forbes as one of the top 100 colleges in the country and highest among Christian colleges. George Fox is the only Christian university in the Pacific Northwest classified by U.S. News & World Report as a national university. More than 3,300 students attend classes on the university's campus in Newberg, Ore., and at teaching centers in Portland, Salem, and Redmond, Ore., and Boise, Idaho. George Fox offers bachelor's degrees in more than 40 majors, degree-completion programs for working adults, five seminary degrees, and 12 master's and doctoral degrees.