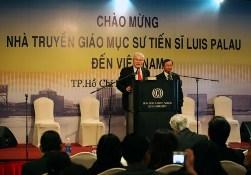 A New Day in Vietnam
Luis Palau Ministries, Beaverton
Vietnam Pastors ConferenceHo Chi Minh City, Vietnam (March 19) – Speaking to 500 Vietnamese pastors and hundreds more by live Internet feed, evangelist Dr. Luis Palau commended Vietnam's pastors for their unity, respect for authorities, and passion for church growth.  Dr. Palau was in Vietnam March 11-17, leading an American delegation that held meetings in Hanoi and Ho Chi Minh City with Vietnam authorities, US diplomats, and pastors representing every denomination.
Pastors described the event as historic and unprecedented, evidence of significant changes that are taking place in Vietnam on many fronts. The two-day conference organized by the Vietnamese pastors included addresses by Dr. Palau, Intel executive Rick Coulson, San Diego pastor Mike MacIntosh, and investment banker and former Secretary of the Navy John Dalton.  The conference kicked off in Hanoi and then moved south to Ho Chi Minh City, formerly Saigon.  In Hanoi, Dr. Palau and his delegation met with US Ambassador Michael W. Michalak who told Palau there has been progress on issues related to religious freedom.  He cited as an example the Vietnamese government granting permission this past December for house churches to hold a one-day celebration. It was attended by 40,000 people.
While in Hanoi, Dr. Palau also greeted worshipers at the Hanoi Church.  In each public appearance, Dr. Palau and his hosts expressed gratitude to the authorities.  Dr. Palau said he was honored by the opportunity to speak to the Vietnamese pastors, but was more interested in learning from them.  In interview after interview the pastors told Dr. Palau that this was a new day in Vietnam.
Dr. Palau said he was impressed by the faithfulness of God's people in Vietnam.  "What encouraged me was to see evangelical Christians continuing to reach out to their neighbors and government leaders, and to see the development of the gifts of the Spirit in Vietnam," he said.
Dr. Palau praised the pastors for their heart for holiness, and for living transparent, clean lives that honor God.  He said he was also encouraged to see their enthusiasm for developing Christian business leaders.
Ambassador Michalak reminded the evangelist and his delegation that "this is Vietnam's first peace generation in hundreds of years; the first time families can look forward to the future without the fear of sending their young people off to war."  By most accounts progress in the area of religious freedom seems to be the result of Vietnam's economic liberalization and growing middle class.
In Ho Chi Minh City, many more pastors and leaders wanted to attend the second day of the conference than could be accommodated by the venue. Organizers had to designate certain slots to each denomination in order to ensure that every denomination was appropriately represented by their congregation size.  Leader after leader repeated, "This is a new day for Vietnam."  The program lasted eleven hours with Dr. Palau addressing the audience three different times.
Dr. Palau exhorted the pastors on the dignity of the pastorate, the maturity of the pastorate, the authority of the pastorate, and the influence of the pastorate.  He later challenged them to dream great dreams, pray great prayers, and plan great plans.  Dr. Palau peppered his messages with stories of amazing things God is doing around the world, especially in Asia.  He exhorted the Vietnamese pastors to love one another, to be holy, and to go into all the world to preach the Gospel.
Coulson explained the importance of developing Christian business people. He described that making money is commended by God and how making money allows one to contribute to the needs of others and support the mission of the Church.  MacIntosh challenged attendees to be faithful servants, warning them to watch out for pride, which he described as the killer of ministry. Dalton spoke about the positive changes happening in Vietnam and his own spiritual journey.
Dr. Palau wrapped up the conference quoting the prophet Jeremiah: "Seek the peace and prosperity of the city to which I have called you. Pray for the city, for if it prospers you too shall prosper."  Dr. Palau encouraged the pastors to bless and pray for their city, and to pray for, serve and honor the authorities.  He too exhorted them to not allow pride and divisions to get in the way of what the Lord is doing in Vietnam.  In all of his messages Dr. Palau was frequently interrupted with shouts of amen and applause.
While in Vietnam, Dr. Palau received an invitation to be the guest speaker at an event being planned for next year in honor of the 100th anniversary the first Protestant church in Vietnam.
# # #