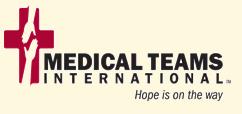 Dedicated Volunteer Dies in Haiti
Medical Teams International:
To our great sorrow, we have learned that Matthew Bouthillier, a Medical Teams International volunteer, died March 1 in Port-au-Prince, Haiti.
"We are shocked and saddened beyond words at this enormous loss," said Bas Vanderzalm, president of Medical Teams International, who recently returned from Haiti. "Our thoughts and prayers are with Matt's wife, Melissa, and his family, as well as our team in Haiti." Matt, 36, served as an emergency-room nurse at Swedish Medical Center in Issaquah, Wash. He had been treating earthquake survivors on a Medical Teams International mission in Haiti since February 20. Matt was pronounced dead from cardiac arrest at the University of Miami field hospital in Port-au-Prince.
Bill Essig, vice president of international programs for Medical Teams International, and Steve Brodehl, chaplain for Hillsboro Fire and Rescue, left immediately for Port-au-Prince to assist staff and volunteers in Haiti.
Please join us in praying for Matt's family and our team in Haiti at this most difficult time.