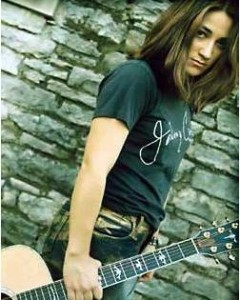 Oregon Faith News Note:  Below is a sample of a long interview that Christian artist Deborah Knapp did for Christianity Today.   You can read the entire interview here.
Seven years ago, while at the top of her game, Jennifer Knapp announced what seemed to many a sudden decision: She was stepping away from Christian music, taking an indefinite hiatus. Rumors began to swirl—she was burned out, she needed a rest, she was upset about something, she was gay. Turns out that all the rumors were true, as Knapp reveals in this rambling, exclusive interview with Christianity Today. The one-time Grammy nominee ended her hiatus in late 2009 with a few small shows, an updated website, and an announcement that she was writing new songs. Many of those songs will be featured on Letting Go, releasing May 11, her first album since 2001's The Way I Am.
You announced your "hiatus" in 2003. Was that a sudden decision, or was it boiling for a while?
Jennifer Knapp: It was boiling for me. I think people thought I just fell into a hole and disappeared, but I had been trying to get out of being on the road 250 days a year. Lay It Down was a 2000 release, and The Way I Am was 2001; those records were literally back to back, and I was touring while recording The Way I Am. I was telling people "Man, I can't keep up the schedule. This is just a little bit crazy." I didn't have any space to just be a normal human being. I finally realized nobody was going to make that decision for me, so I just said, "I'm not kidding. I need a break, and it starts now." That decision came mid-2001, but my schedule didn't allow me to stop until September 2002, when I did my last show; I basically still had about a year and a half worth of contracted concerts and other things before I could stop….
There were rumors that you left music because you were gay.
Knapp: That was a straw [in my decision], but there were many straws on the camel's back at the time. I'm certainly in a same-sex relationship now, but when I suspended my work, that wasn't even really a factor. I had some difficult decisions to make and what that meant for my life and deciding to invest in a same-sex relationship, but it would be completely unfair to say that's why I left music.
Were you involved in a relationship at that time you left?
Knapp: Around 2002, I was starting to contend with this new-found "issue" in my life. But I'd already decided to leave music before I knew I was going to contend with that. I don't want anyone to think that I ran out of town with my tail between my legs because I had something to hide.
Or that you were run out of town.
Knapp: Or that I was run out of town. Neither is true.
When you wrote The Way I Am, was that a veiled statement about being gay?
Knapp: That record means a lot more to me now than it did at the time. That whole record for me was an exercise in the carnal body of Christ manifested. One of the biggest decisions I was wrestling with then was, If I don't do Christian music, am I not a believer anymore?
Why come back now? What has changed?

Knapp: At some point [last year] when I started to write again, I realized that the process was rather organic. I started playing at home, and my friends are going, "Oh wow, that's pretty good. What are you going to do with that?" I said, "What do you mean, what am I going to do with it? Nothing!" The return has been a lot like the way I started music in the first place. We're doing a four-day run of concerts right now, I'm in a van, I just spent half my afternoon driving, and if I'm lucky I get dinner before I play tonight. There's something about that process you've got to love. I just think it took me a lot longer to figure out if that passion was a safe one for me…
What about what Scripture says on the topic?
Knapp: The Bible has literally saved my life. I find myself between a rock and a hard place—between the conservative evangelical who uses what most people refer to as the "clobber verses" to refer to this loving relationship as an abomination, while they're eating shellfish and wearing clothes of five different fabrics, and various other Scriptures we could argue about. I'm not capable of getting into the theological argument as to whether or not we should or shouldn't allow homosexuals within our church. There's a spirit that overrides that for me, and what I've been gravitating to in Christ and why I became a Christian in the first place.
You can read the entire interview here.