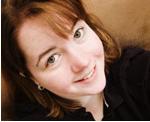 By Carrie at Reading to Know
If you somehow missed the news, Christian Music star, (during the years 1998-2002ish), Jennifer Knapp announced last week that she is re-entering the music scene after an seven year hiatus. Perhaps even more surprising is her announcement that she is a lesbian.  I saw CNN make the announcement and then I read through the interview of Knapp which was conducted by Christianity Today. I was filled with dread for two reasons:
1.) The media is using Knapp to taunt Christians and test their response to Knapp's announcements. This really isn't about Knapp's "orientation." It's about grinning in the face of those who believe that homosexuality is a sin and seeing what kind of response they can rile up.
2.) Christians will not know how to respond. I'll use the term "we" here and say that Christians reading this announcement are, first of all, likely stunned. And when we're stunned, the typical response is to want to run and hide somewhere and pray desperately that someone else will stand up and take the heat by speaking on behalf of us all. We're relieved when this happens. Relieved we weren't called on to give an answer. Relieved when we don't have to be "the bad guy" who is taking the heat. Let someone else do that.
So we find ourselves reading about Knapp and catching up on her news in the quiet and safety of our own homes, grateful that no one knows how much (or how little) we know on the subject matter. If they don't know what we know, then they can't ask questions.
We'll be left alone.
Jennifer Knapp will also be left alone as a result of our silence. The quicker this will all blow over and Christians can breathe a sigh of relief (mostly.) The situation will have various effects and most of all we Christians will be sad.
We won't have learned anything.
Jennifer Knapp will not have learned anything either.
I read her interview with Christianity Today and found it to be the most insightful and telling regarding her desire to pursue a lesbian relationship. She made this rather amazing statement which blew me away. She says:
"I'm not capable of getting into the theological argument as to whether or not we should or shouldn't allow homosexuals within our church." – Jennifer Knapp, interview with Christianity Today)
I think that one sentence and admission says it all.
Let me make this abundantly clear:
I am not here to debate homosexuality.
I'm here to say that we don't know our theology well enough to know what is good and what is bad. We can't tell black from white, right from wrong because we don't know what we believe. We can't give a concise response to CNN or even Christianity Today because we've decided that God can be anything we like and/or want Him to be. Anything goes and we're given permission to Sin Boldly
so that grace can abound. (What?)
Today we have a Bible that is three words long: "God is love." Everything else has been thrown out.
We've forgotten about His holiness. We don't know the meaning of true grace. We've long since forgotten His faithfulness to us and not unlike the children of Israel – we're wandering in our homemade wildernesses. We compartmentalize our sins instead of lumping them all together and calling them out for what they are.
We want to segregate ourselves so that we can be among those who are "understanding" of ourselves. So we ask for the Church of Homosexuals, the Church of Prostitutes, the Church of Those With Foul Mouths, the Church of Divorcees, the Church of Angry People, the Church of _______ (you fill in your own blank.) Even The Church Where You Win a New Car (and feel good about yourself while doing it!) Instead of learning how to be the body of Christ in the way that it was designed to operate – with everyone learning to live and function together, utilizing the gifts and pointing out the flaws in a loving (but firm) manner – we're begging for sympathy. We've built for ourselves a sympathy god but we've failed to realize that that god is ourselves. We're falling apart at the seams and we don't even know it. We ask for understanding and we find none because we're seeking wisdom from imperfect sources.
But then along comes CNN and they have something to say to us, something to use as a weapon to jeer at our belief system. I don't really feel like they are deserving of an answer. Sometimes we are to answer the fool according to their folly and other times we are not. Right now CNN is the fool that doesn't deserve an answer and so this post isn't directed at them. This post is directed at Christendom who does need to learn to give an answer. We've lost our footing, not necessarily because it's been taken away – but because we've given it away because of fear, pride and any other number of sins.
We each have our sins but do we even know what they are? How can we as Christians become more Christ-like if we are not examining ourselves in the light of scripture? Do we even know that when we become Christians we are saying that we want to be like Christ? And to be like Him, we have to know Him. And to know Him is to learn that there are right things and wrong things. There is such a thing as holiness and there are things that offend it. There is truth and untruth. There is justice and injustice, mercy and grace AND love ………….AND holiness.
Romans 6: Dead to Sin, Alive to Christ (NIV)

1What shall we say, then? Shall we go on sinning so that grace may increase? 2By no means! We died to sin; how can we live in it any longer? 3Or don't you know that all of us who were baptized into Christ Jesus were baptized into his death? 4We were therefore buried with him through baptism into death in order that, just as Christ was raised from the dead through the glory of the Father, we too may live a new life.

5If we have been united with him like this in his death, we will certainly also be united with him in his resurrection. 6For we know that our old self was crucified with him so that the body of sin might be done away with, that we should no longer be slaves to sin— 7because anyone who has died has been freed from sin.

8Now if we died with Christ, we believe that we will also live with him. 9For we know that since Christ was raised from the dead, he cannot die again; death no longer has mastery over him. 10The death he died, he died to sin once for all; but the life he lives, he lives to God.

11In the same way, count yourselves dead to sin but alive to God in Christ Jesus. 12Therefore do not let sin reign in your mortal body so that you obey its evil desires. 13Do not offer the parts of your body to sin, as instruments of wickedness, but rather offer yourselves to God, as those who have been brought from death to life; and offer the parts of your body to him as instruments of righteousness. 14For sin shall not be your master, because you are not under law, but under grace.

15What then? Shall we sin because we are not under law but under grace? By no means! 16Don't you know that when you offer yourselves to someone to obey him as slaves, you are slaves to the one whom you obey—whether you are slaves to sin, which leads to death, or to obedience, which leads to righteousness? 17But thanks be to God that, though you used to be slaves to sin, you wholeheartedly obeyed the form of teaching to which you were entrusted. 18You have been set free from sin and have become slaves to righteousness.

19I put this in human terms because you are weak in your natural selves. Just as you used to offer the parts of your body in slavery to impurity and to ever-increasing wickedness, so now offer them in slavery to righteousness leading to holiness. 20When you were slaves to sin, you were free from the control of righteousness. 21What benefit did you reap at that time from the things you are now ashamed of? Those things result in death! 22But now that you have been set free from sin and have become slaves to God, the benefit you reap leads to holiness, and the result is eternal life. 23For the wages of sin is death, but the gift of God is eternal life in Christ Jesus our Lord.
We are still called to know what sin is and to avoid it. It is a gift to be forgiven. A gift – so none of us can boast! And when we are given a gift we should want to say, "Thank you" to the giver. In this case, the giver asks for obedience to Him and unless we know what His rules are, we will have no ability to obey. We have to know the rules, folks. We have to study and understand. People will continue to question our faith and their own and we need to be ready to give them solid answers to their questions.
Can you do that? That's exactly the question I'm asking myself.
It's the question we as Christians should keep asking ourselves until we're willing to discipline ourselves to know God and who He is. Jennifer Knapp is not the first person to raise issues over what Christianity is, nor will she be the last. But she can prompt us to get back down on our knees to pray for wisdom to know what to say, when to say it, and who to say it to. She could be just the encouragement we need to re-open the Word of God and discover what it says. She could be just the prompter we need to stand up for what we believe in.
She could be.
Or we could return to our quiet, private lives and keep pretending to ourselves that everyone likes us all of the time.
Whether or not we decide to stay mum and hide, the fact remains: the truth will never change.
But we can.