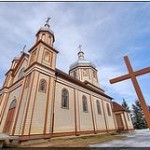 New Catholic channel joins Comcast
BOSTON — CatholicTV® (CatholicTV.com), America's Catholic Television Network(TM), has announced that it has signed an affiliation agreement with Comcast Corporation, the nation's leading provider of entertainment, information and communication services in the country.
"Every day, CatholicTV hears from viewers around the country who are anxious to benefit from the programming our network provides," said Father Robert Reed, CatholicTV Director. "We are honored to provide Comcast with uplifting entertainment and compelling family programming that reflects the diversity of our nation."
CatholicTV has been an industry leader for more than 55 years, offering a broad spectrum of faith-based programming aimed at children, teens and adults. With news, talk, entertainment, international event coverage and devotional series, as well as live Sunday Mass from the University of Notre Dame and a full slate of Video On Demand, CatholicTV is unparalleled in its outreach to the religious community.
On the cutting edge of technology, CatholicTV has developed the "CatholicTV" iPhone app and is offering both television programming and special sections of CatholicTV Monthly magazine in 3D.
"We are very excited to partner with Comcast and are grateful for their affirmation of the CatholicTV Network. We look forward to being part of the already impressive Comcast lineup," said Jay Fadden, CatholicTV General Manager.
About The CatholicTV® Network — CatholicTV is the premier and largest diocesan Catholic television station/Catholic Broadband Network in the world and America's most innovative faith network. CatholicTV offers 24 hours of commercial-free programming that has wide appeal to people of all ages. CatholicTV is a nationally-broadcasted television network streaming a live feed 24 hours a day at CatholicTV.com. Heeding Pope Benedict XVI's call to greater utilize the power of television and new media, the CatholicTV Network features its cable TV station, Catholic web site, mobile apps and widget. Celebrate Mass online; pray The Rosary; enjoy programs on prayer, the saints, the Scriptures and the Catholic Church on America's Catholic Television Network.