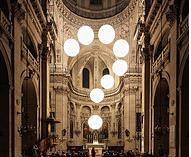 Oregon Faith News Note:
— Recently the Portland Archbishop sent a letter to his fellow priests encouraging them to follow his lead in canceling their subscription to The Oregonian after the newspaper ran a very critical editorial and cartoon. Read the Bishop's statement here.  The Oregonian responded with words of caution and, in a sense, a challenge to all sides in the debate over clergy abuse in Oregon and the world.   You can read excerpts below…
"…Though he canceled his subscription to The Oregonian and asked priests and pastoral ministers to do likewise, I would respectfully ask the archbishop and especially the pope a question: What could you do to turn a profound crisis of authority into an opportunity for courageous leadership?"
"But first, a few words about the responsibility we have as constructive critics. Mean-spirited attacks are not helpful. Nor is it right to let the behavior of some people within a faith tradition lead us to stereotyping all priests or other religious figures. Moreover, the serious problem and crime of pedophilia is certainly not confined to the church. "
Yet, a serious and perhaps systemic pedophilia problem plagues the church. The courage of victims, the diligent work of lawyers, the reparative impact of lawsuits and the tenacity of investigative journalism have brought to light the sad stories of child molestation. In Oregon, or in the especially troubling story of what happened to deaf children in Wisconsin, or in Ireland, or all across Europe, or in the pope's native Germany and in the Bavarian region where he was an archbishop years ago, patterns of priestly abuse of minors and decades long avoidance have told a baleful tale. Continue reading here
So after reading what The Oregonian had to say, did the newspaper address the heart of the issue or did teh author just try to play all sides?